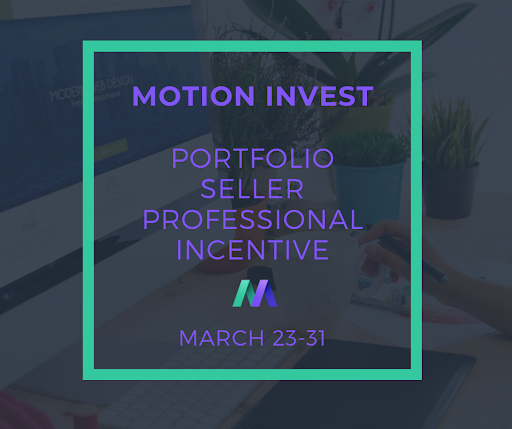 Today we are introducing our Portfolio Seller Professional Incentive – Below we outline the reason for the program and the added benefits to portfolio sellers with Motion Invest.
To Apply – contact Ryan@motioninvest.com or submit a site to sell here
Who is This For? Online entrepreneurs with a portfolio of money making content sites considering selling for a premium multiple
What do you Get? Submit 2 or more sites and receive a special Scalable Commission Fee + a Focused Marketing effort (email and social dedicated to your sites) and last but not least a $200 listing bonus (per site – when we list it). Competitors charge you to look at your site… we are so confident we will sell your site for a premium multiple that we pay you!
When Must you Apply by? Apply within the period of March 23rd to March 31st, 2021.
Please note all sites must pass through Motion Invest's Due Diligence Process and the site(s) must be listed to be eligible for the Portfolio Seller Professional Incentive.
After working closely with some of the leaders in the industry to help sell a portion of their portfolio including…
Jon Dykstra – 6 sites
Michael from DomainMagnate – 8 sites
Scott Davis (EmpireFlippers content site fund operator) – 20 sites
Dom Wells from OnFolio – 3 sites
We are now looking to work with other portfolio sellers aiming to sell a portion or all of their portfolio.
These portfolio owners all have some sites that get the majority of their focus while other sites that make less don't get as much attention. The result is that sites not making enough to get their attention or worth their time to sell languish in portfolios. MotionInvest and our efficient process of selling sites for top dollar is the reason we are the go to solution for leading portfolio owners.
At Motion Invest, it's our goal to continue to adapt to the changing landscape and provide a service offering that is unmatched across the industry.
Motion Invest is known among sellers already as…
The most efficient place to sell your site (no phone calls and minimal messages)
The marketplace providing the greatest return for sellers (setting records on multiples)
The only place to sell some of your smaller sites in your portfolio (no minimum monthly earnings)
The most favourable listing agreement (30 day exclusive only)
Why Motion Invest?

Competitive Income Multiples
At Motion Invest we have established new ceilings when it comes to website sales. Through proper and reliable due diligence practices we've been able to list and sell websites for competitive monthly income multiples as high as x45. This accompanied by our Dutch Auction listing model allows us to seek the best return for our clients while re-establishing the sales ceiling for sites of all sizes.
Customizable Terms
Motion Invest is unlike other brokers, as we're capable of tailoring our offerings to the individual customer and establishing mutually beneficial relationships to maximize the opportunities.
We're confident in our ability to secure the best price possible which is why we're able to scale our commission rates between 20% and 12.5% to reflect the income multiple at which the site is sold.
It's offerings such as these that entice sellers to seek out Motion Invest, coupled with a reliable due diligence process it allows us to continue to go above and beyond for our clients.
Eager Customer Base
It's no surprise that the past year has seen an increase in online businesses presence as a result of the ongoing COVID-19 pandemic driving business into new digital streams. Motion Invest has established itself within the $1,000-$20,000 range and is expanding upwards. 2021 is off to a roaring start with the highest volume of sites being sold in the history of Motion Invest.
It isn't uncommon for sites within the $2,000-$10,000 range to last only minutes once listed on our marketplace, illustrating the eager customer following Motion Invest has developed over time.
Portfolio Case Study
Motion Invest has been successful in selling portfolios for a number of industry leaders. Outlined below are a couple examples of the successful portfolio sales Motion Invest has secured on behalf of its clients.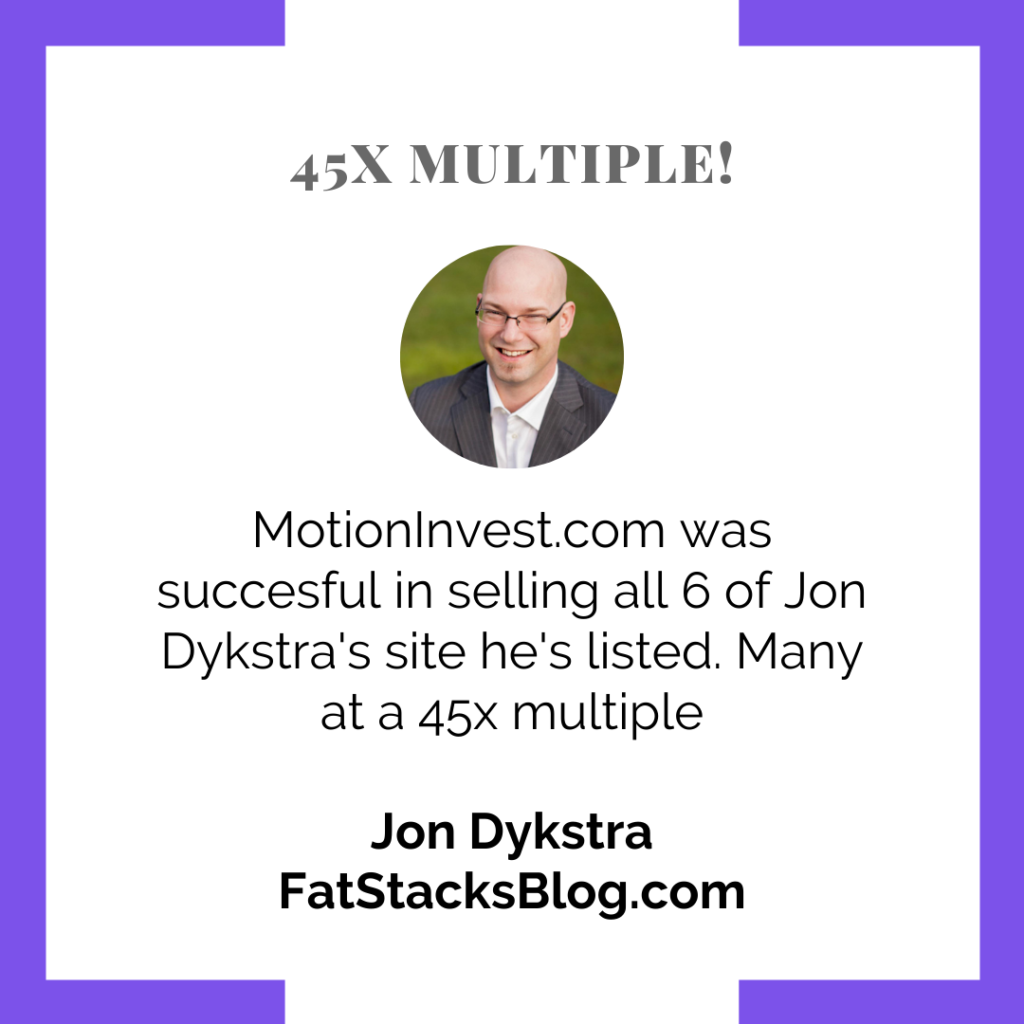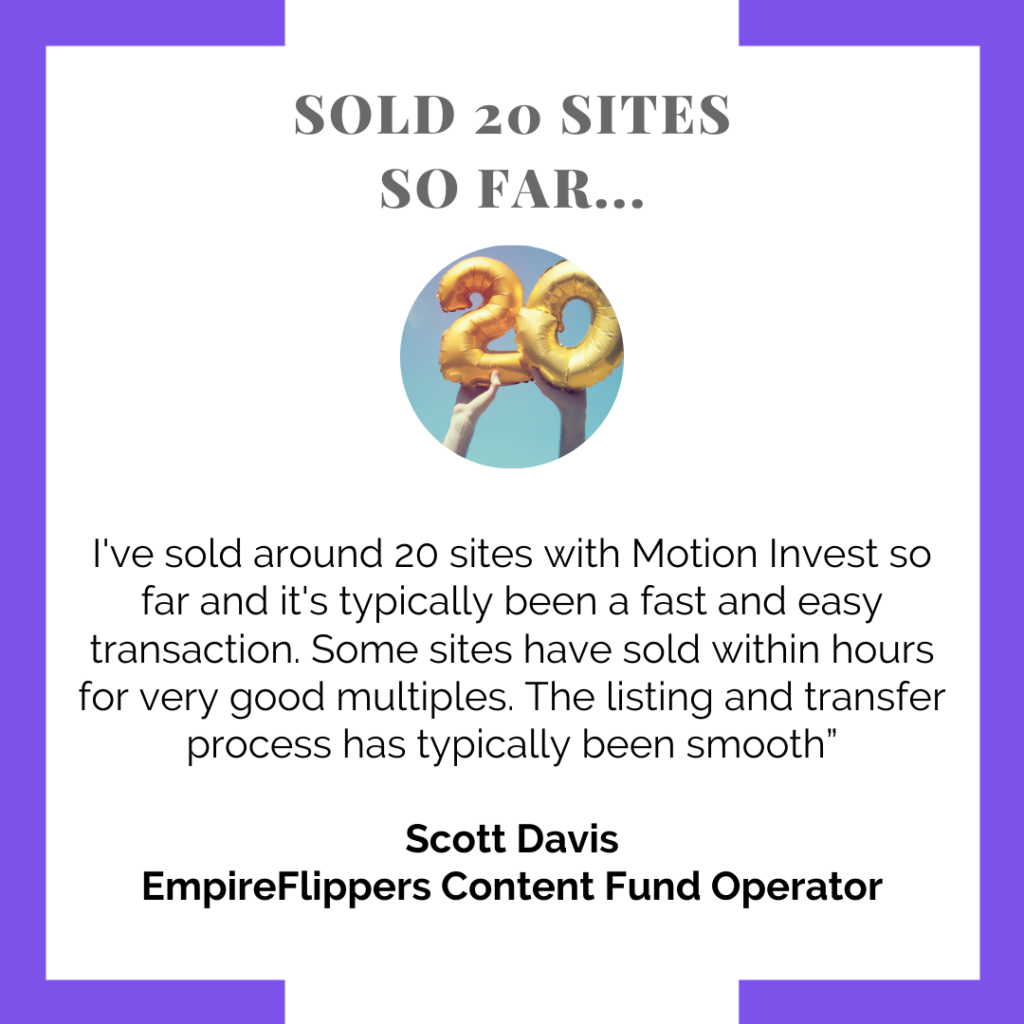 If you have any questions about our Portfolio Seller Professional Incentive, please reach out to our Business Manager Eric Dance at eric@motioninvest.com or book some time to chat HERE.