Have you been hoping to get involved in affiliate marketing for a while? An Amazon affiliate website is a great way to start!
How does it work?
In a nutshell, you grow a website in a specific niche and write about products in that space, then point your readers to those recommended products on Amazon.com. As a member of the Amazon Associates program, you're able to take a small commission on each product your visitors purchase on Amazon – and you actually get credit for everything the consumer buys there after they use your affiliate link. But make sure you stay compliant with amazons affiliate policies so that you don't get your account banned. If you are unsure how to stay compliant, here is a great guide with an even awesome free plugin o help you.
With enough monthly visitors, that's serious passive income in your pocket every month!
To give you a sense of the possibilities, we're going to briefly share a few successful Amazon affiliate case studies. Keep in mind, these sites were started completely from scratch, but you can get profitable even faster if you buy an existing affiliate site.
In fact, there are booming websites for sale in a wide range of niches right now! You can learn more about buying a site from Motion Invest here.
Case Study #1: OwnTheYard.com
One exciting Amazon affiliate case study comes from one of Motion Invest's very own founders, Spencer Haws. As part of his Niche Site Project 4, Spencer built a brand-new affiliate website in the backyard niche, covering topics like yard games, animals, yard tools, gardening, and backyard gear.
Needless to say, it worked out well enough to be featured right here! In December 2019, just 15 months after starting the site, OwnTheYard.com brought in just under $2,000 from Amazon US in a single month.
Pretty impressive! So, how did Spencer grow the site to that level of success?
Well, for one thing, he was consistent about publishing content each and every month – sometimes adding as many as 20 posts in a single month, but usually at least 10 per month. Spencer wasn't shy about outsourcing content creation to UpWork authors or content services like Content Pit to ensure he could aggressively grow the site.
It's also worth noting that even though most of the revenue for OwnTheYard.com comes from the Amazon Associates program, it earned a decent amount from display ads with Ezoic as well.
However, Spencer shared some good advice from his own experience: don't run any display ads on posts where you're trying to encourage visitors to make an Amazon product purchase. By making this change, he saw a big boost to his Amazon earnings.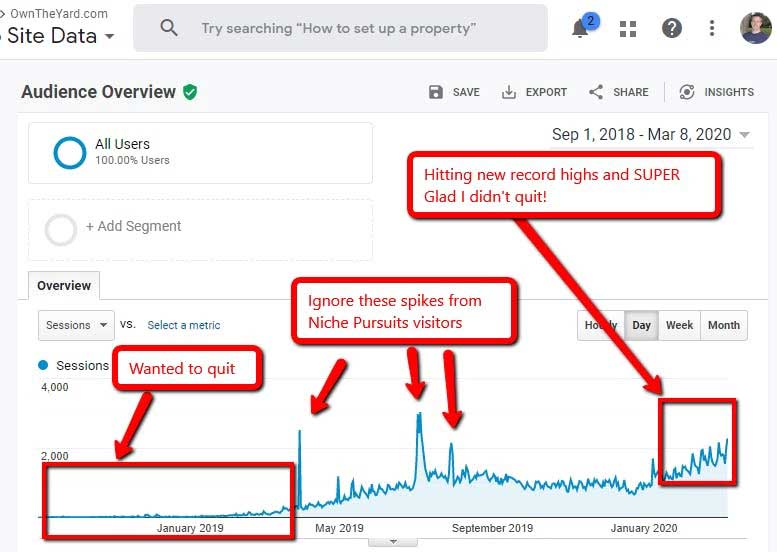 Another important point that Spencer recently shared with his audience is the importance of not giving up. After he started the site, Spencer put in six months of hard work and had just $15 of income to show for it after all that time! Fortunately, he stuck with it, and the site is currently seeing serious growth and income – but there was no way to know if it would turn out that way in the beginning.
That's one reason why it can be worth buying an Amazon affiliate site instead of starting one from scratch. How much easier is it to fully invest in a site that's already seen some success and proven its potential within its niche?
Case Study #2: Fat Stacks Affiliate Site
Another big name in affiliate marketing is Jon Dykstra. He owns a blog called Fat Stacks Blog and writes about his in-depth experience growing niche sites.
In one of his posts on Fat Stacks, Jon was kind enough to share a detailed case study of an Amazon affiliate site. While he doesn't reveal the specific URL, Jon talks about the content created for the site, as well as the impressive results that were achieved.
First of all, the case study was written after one year of growth for the site. At that time, the website had roughly 100 posts live and had just achieved a $2,000-revenue month. Best of all, the website soon shifted to a primarily passive site.
In other words, while the site owner continues to add new content and links on occasion, this affiliate site is now dominating its niche without a lot of extra work.

So, how did the site see such success? According to the author of the case study, the magic formula was creating content, sharing it on social media, building about 5-10 links per month, and occasionally optimizing on-page SEO for older posts. Specifically, the site's owner initially created content at the rate of 3 posts per week for three months.
Breaking it down further, the author revealed that much of the content for an Amazon affiliate site consists of so-called "money posts," which are reviews or "best of" posts that discuss specific products in that niche. When you write in detail about products, you maximize your chances of making affiliate commissions by referring readers to Amazon.
The author also recommended that another third of the posts be "info posts," which boost your credibility and tend to rank easier than product reviews.
Of course, the biggest challenge with new sites is that the Google algorithm usually takes a minimum of 6 to 12 months to really start ranking content (the infamous Google sandbox). All affiliate site owners have to power through this period with no guarantee of success – but if you buy an existing Amazon affiliate website with verifiable income, you can pick it up from there and skip over one of the most challenging phases of the affiliate game!
Case Study #3: Authority Hacker Affiliate Site
There's a lot to learn from the guys over at Authority Hacker, particularly monetization and content strategies. In this detailed Amazon affiliate case study, they share how they grew a site in 18 months and sold it for mid-six figures!
How did they do it? Well, through careful niche selection and a focus on monetization, the site ended up being a big earner – in the final month before they sold it, the site had brought in a net profit of $10,890.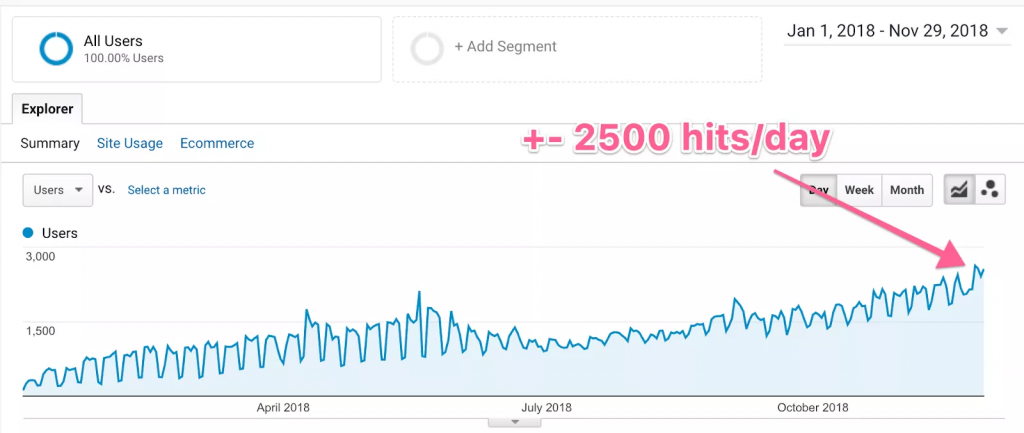 Now, this is obviously not typical – Gael Breton and Mark Webster run a portfolio company and have the best SEO tools, hosting, and content production resources at their disposal, plus years of experience in affiliate marketing.
But that's precisely why it's so helpful to check out their case studies. They offer plenty of valuable advice to affiliate site owners at any stage or experience level.
Take monetization as an example. While they acknowledge that total traffic is important, they point to other important metrics as well. For instance, if you can get a higher conversion rate in your niche, you don't need as many visitors to achieve the same overall income. Or if you hold the conversion rate steady, but find stronger affiliate programs and partners, your total affiliate payout could be higher from the same amount of content.
As experts, the Authority Hacker guys use Amazon for their site, but they diversify their affiliate partners beyond just Amazon Associates. This might be something for you to consider for your site as it continues to grow.
What else do they suggest? Define your sitemap and content structure early. By planning your pages upfront, you can build your site as a comprehensive resource in your space, while still starting to rank for easy keywords.
They also highly recommend that you conduct original testing and share data on products to stand out in a crowded niche.
The Major Amazon Affiliate Takeaways
So, what did we learn from these inspiring Amazon affiliate case studies?
Well, no matter what stage you're at in the Amazon affiliate business, your success boils down to a few simple things:
A solid niche
Effective keyword strategy
Lots of quality content
Link building and promotion
Time
With these factors in mind, it's ultimately up to you whether your best route is to start your own site or buy one.
Buy a Site or Start Your Own?
As Shakespeare's Hamlet once said (and I'm paraphrasing): to buy or not to buy? There's no single right answer here – it comes down to your resources, your level of expertise, and your patience.
It can certainly make sense to start a new affiliate website. After all, plenty of people are doing it and seeing success. But if you're leaning toward starting a new site, be sure you know what you're getting yourself into.
Specifically, be ready to put in months – or even years – of work before you see if your domain will rank in the SERPs, and longer still to find out if you can monetize the site enough for a profit. Even if you have a decent budget to invest in content on a new site, the money often goes to waste if you try to rank for keywords that are too competitive.
Instead of spending all of that time and money on a risky new venture, it's often better to purchase a more established website. One huge advantage to buying an affiliate site – especially with Motion Invest – is that you'll end up owning a website that has already proven itself.
That's a huge deal! It means you can get started on your business with confidence, knowing that it's been vetted by true professionals. From there, the question is how far you can take it, not whether it will be viable in the first place.
And who knows? If you find the right affiliate site with Motion Invest, maybe we'll be featuring you as an Amazon affiliate case study before long!
Interested in learning more about buying an Amazon affiliate website with Motion Invest? Contact the team today!