Since 2009, Flippa has served as a broker for buyers and sellers of websites, web domains, mobile apps, and other online businesses.
In that time, Flippa has been the go-to marketplace for buying and selling online businesses, particularly smaller ones – but that's starting to change.
Flippa has its problems, and that's a big part of the reason why Spencer, Jon, and Kelley started MotionInvest.
3 Quick Differences Between Flippa and MotionInvest
Before we go into too much detail, I just want to summarize some of the quick differences between Flippa and MotionInvest:
1) Flippa is a broker and marketplace that lists businesses. MotionInvest is a party in every transaction.
2) Flippa does minimal verification for its listings. MotionInvest does professional vetting every time (we buy all the sites ourselves!).
3) Flippa lists a wide variety of online business types. MotionInvest focuses on niche content websites with organic traffic.
In a big picture sense, Flippa is notable because of its size. It serves more than 1.5 million users, which means a good selection for buyers and a large potential audience for sellers.
But there are some problems with Flippa to be aware of. While the site itself is fairly easy to use, it still has some serious issues that could compromise its utility as an option for people who are buying and selling online businesses.
Common Problems With Flippa

Problems For Flippa Buyers
Scams
If you quickly skim Flippa's Sitejabber page, you'll see review after review talking about the prevalence of scams on Flippa – and even worse, problematic customer support that may end up siding with a dishonest seller during disputes.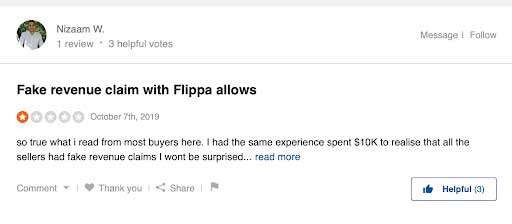 What are these "scams" like? Typically, it boils down to sellers who inflate their revenue numbers, understate their expenses, or both. Scams can also result from websites that are propped up by spammy links or other short-term tactics that won't hold up in the long run.
Regardless of a listing's claims, you may only find out after the fact if you've been had by an unscrupulous seller on Flippa, and then you may face an uphill battle to get your money back!
Inexperienced sellers
Through no fault of their own, many sellers aren't up to speed on the transfer process for a web property or online business. This is because they just haven't ever done it before.
As a result, if you make a purchase through Flippa as a buyer, you may have headaches to deal with while the seller learns how to finish transferring their website to you. This includes the following:
Website domain
Website files
Hosting
Google Analytics account
Financial records
Unverified information
Even if you're not dealing with a scam, the numbers you see advertised on a Flippa listing often aren't verified or professionally vetted by anyone.
This includes key website metrics like total monthly visits, average bounce rate, traffic source, and conversions – and it also applies to any income figures, such as overall profit and loss, earnings per click, and affiliate monetization figures.
How can you know what you're really getting when you make a purchase on Flippa? It's hard to get a good deal without knowing that the numbers are rock-solid.
Too much junk to sift through
There are definitely some quality sites listed on Flippa. It's easy to set filters to find the exact type of business you're looking for, including by keyword, business type, price range, and more.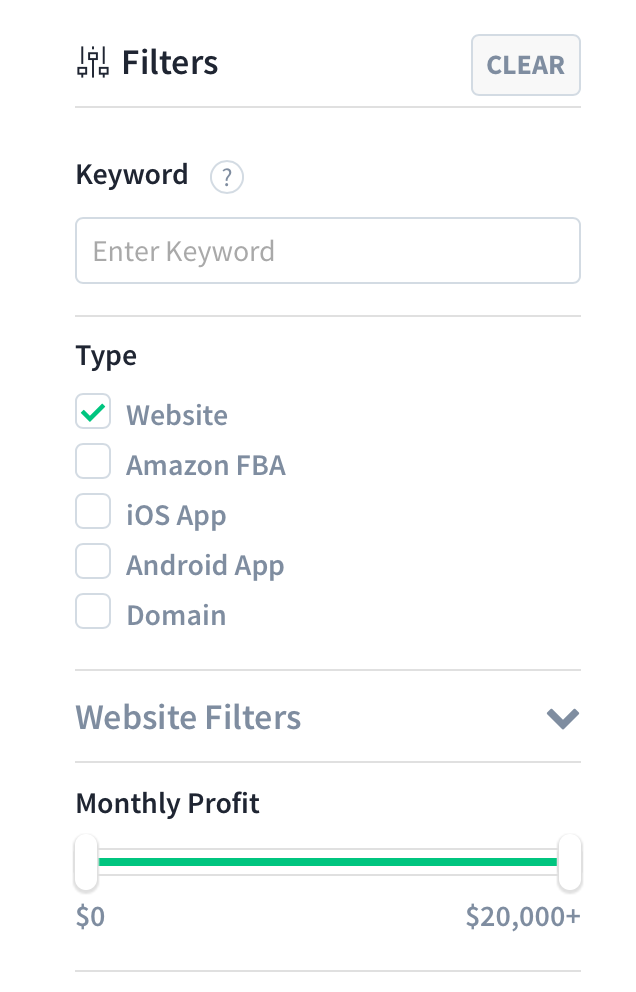 The problem? Without a way to consistently verify what you're looking at, you'll have to go through and manually browse a lot of questionable listings to eventually find something worthwhile. There are undoubtedly many gems to be found on Flippa, but can you afford to spend hours or days sifting through junk to find them?
Problems For Flippa Sellers
Can take a couple months to sell
With so many listings, there's no guarantee that your site will get picked up quickly. In fact, it often takes a couple of months to successfully sell your online business on Flippa. This timeline isn't a problem for some people, but it's worth noting if you need the transaction done quickly.
Inefficient amount of information
It can be a tedious process to upload all of the information on your listing. It's also challenging to communicate with so many potential buyers – and it's up to you to manage those conversations until you get someone who's ready to make a purchase.
All of this work eats up valuable time that you could be devoting toward something more useful.
Getting labeled a scammer
Because of the prevalence of scams on Flippa, it's possible that you may be labeled a scammer in the chat, even if your website is a legitimate listing.
Not free to list or sell
Currently, there's a fixed price for listing your websites, domains, and apps on Flippa. In addition to that, Flippa takes a "success fee" as a sales commission – it's listed as 10% for an actual sale price between $1 – $499k.
It can get even more expensive if you want your listing to be featured, premium, or boosted. These tactics can help you get the site sold faster or at a higher sales price, but they do add hundreds of dollars to the expense of selling effectively on Flippa.
How MotionInvest Addresses the Problems on Flippa
So, considering the Flippa problems we just explored for both buyers and sellers, let's take a look at how MotionInvest addresses these problems on its platform.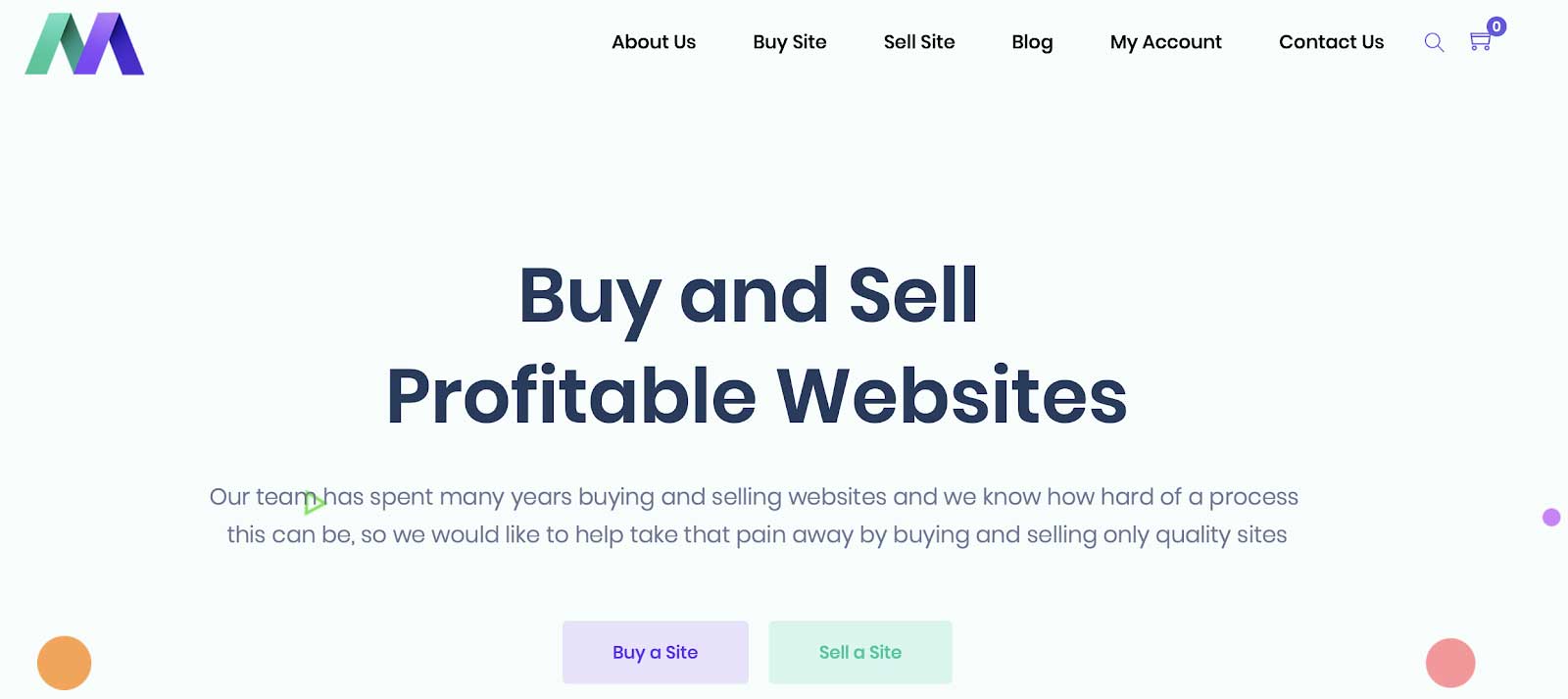 Solutions For MotionInvest Buyers
Skin in the game
MotionInvest is a party in every transaction. We're not a marketplace in the traditional sense, but an intermediary that buys websites from sellers and then makes the sites available to buyers directly.
Because MotionInvest takes full possession of the websites it offers for sale, our team has to conduct its own due diligence. This whole process ensures that MotionInvest is aligned with our customers, with plenty of skin in the game – everyone benefits from the fact that we will only list websites that meet its stringent purchase criteria.
Experienced and smooth transition
Unlike with Flippa, MotionInvest is run by a hands-on team of online entrepreneurs with decades of combined experience.
Whether you're a buyer or a seller, you know you're in good hands when transferring a website with MotionInvest, because we have done it enough times to ensure a smooth transition.
Verified information
At MotionInvest, we have a set of criteria that we look for to make sure a website is worth buying. Anyone who ends up buying a site from us will also benefit from professional vetting and verified information.
This includes both website metrics and real-world profitability. MotionInvest helps you get going with the best possible set-up to grow a successful website.
Serves the niche website market
Are you interested in starting with a website, but you don't have the money or experience to dive deep right away?
That's not surprising, considering that you generally won't be able to work with a dedicated broker until you have at least $75,000 in capital. In comparison, MotionInvest targets websites with a monthly income of $50 to $2000, which means you'll only need four figures to purchase a website and get your online business going.
Solutions For MotionInvest Sellers
It's fast
Sellers appreciate MotionInvest's professionalism as well. Want your website sold as quickly as 48 hours from now? If you meet MotionInvest's standards, it won't take long to sell your site and walk away with cash.
The last thing you want is to wait months hoping for someone to buy your site, only to find yourself still stuck at square one. Few things in life are guaranteed, but with MotionInvest, we can guarantee a quick offer for a qualifying site, followed by a fast sale.
It's efficient
MotionInvest is owned and managed by a knowledgeable team that has been through the process of buying and selling hundreds of times before, so we can handle everything from due diligence to contracts to site transfers. The whole process is standardized to make it easier for sellers.
Even better, because you're working with an experienced buyer, you don't need to spend any of your time trying to get the team up to speed after the purchase is over. With minimal training necessary, you can focus on what's next for your business.
It offers expertise
MotionInvest provides a fair market price for your website based on our detailed research and knowledge. You can count on experts to handle everything for you, because we've been there before.
Once you've sold the site to us, we do all the heavy lifting for you, using our background to sell the site to buyers after we've purchased it from you. For a seller, MotionInvest makes the selling process as painless as possible!
It's free
There is NO listing fee or commission for selling your website to MotionInvest, which is a huge perk. Thanks to our unique approach, selling your site is just a simple transaction between you and the MotionInvest team.
Whatever price you're offered for the site, all of that money is yours.
10 Flippa Alternatives
While there are some merits to Flippa, there are clearly some problems that come with the platform as well, particularly for buyers. That's why it makes sense to look into some Flippa alternatives.
We believe MotionInvest is a great choice, especially for smaller niche site buyers and sellers, but there are some other Flippa alternatives you might consider. (And for a complete guide to buying websites, check out MotionInvest's in-depth article on buying websites for sale.)
1) Empire Flippers
Empire Flippers is a popular broker and marketplace for buying and selling websites. This is a fast-growing company that has started to focus on more upmarket online businesses. It's a pretty good option for buyers, as long as you can afford the high price points they're focused on.
2) Exchange Marketplace
Exchange Marketplace is a platform powered by Shopify, the popular online ecommerce platform, for buying and selling online stores. It has a lot of the same problems associated with Flippa, but isn't quite as user-friendly. However, Shopify-based stores are huge, so it may be worth a look if that's the kind of website you're interested in.
3) FEInternational
FEInternational has a niche in the online business brokerage space by focusing on SAAS businesses and affiliate websites. This is another great option that does offer high-quality sites for sale, if you're in the market for a mature business.
4) Quiet Light Brokerage
Another high-end website broker, Quiet Light Brokerage was founded back in 2007. Its brokers are known for being experienced entrepreneurs in their own right, many of whom successfully exited their own ventures. QLB is a reputable broker with high quality, expensive listings.
5) BuySellEmpire
Every broker tries to find a specialization or niche for themselves, and BuySellEmpire is no exception. This site is focused on listing ecommerce websites, and similar to how MotionInvest operates, BuySellEmpire focuses on a limited number of quality sites for sale.
6) Website Closers
Website Closers is another broker found on the Inc. 5000 list with dozens of active listings and hundreds of closed deals. If you're looking to buy an ecommerce or affiliate website, you may be able to find some interesting opportunities on Website Closers.
7) Trustiu
Trustiu is an international website broker with a focus on the European market. This may be interesting for someone who wants to diversify beyond the United States website market. It also has a wide range of prices, so you may be able to find some smaller websites that fit your budget.
8) Website Properties
Website Properties is a veteran broker with more than 17 years of experience and hundreds of websites sold. Its listings range from a price of $70K up to $7.5M.
9) Biz Broker 24
BizBroker24.com has one claim to fame: that it sells more internet businesses than anybody else in the world. Their listings start at under $100K and go up to valuations of more than $25M.
10) Digital Exits
Unlike some brokers, Digital Exits is focused on delivering the highest quality experience for buyers and sellers. They tend to do fewer deals, but aim to have a higher rate of success for the deals they handle.
Conclusion
As you can see from our list of 10 Flippa alternatives, it certainly isn't too difficult to find brokers for established websites and online businesses out there. Where it gets difficult is finding one that's willing to work with much smaller websites and businesses – basically anything under five figures.
We truly believe that MotionInvest does the best job of catering to smaller affiliate and niche website buyers and sellers. With a unique approach, professional expertise, and a dedication to quality, MotionInvest is worth a look for anyone in the market for a website.
If you have questions or want to learn more about working with MotionInvest, please get in touch with us today to find out more!