Have you heard of Ahrefs before but not sure what it's for or maybe are unsure how to use it? In this in-depth article, we will discuss what Ahrefs is good for, the basics behind it and how to use it to analyze either your own site or how to analyze a site you might be looking to purchase.
What is Ahrefs?
Ahrefs.com is an online tool set that optimizes SEO and backlink analysis. It is the leading backlink checker in the industry, providing an in-depth examination of backlinks while simultaneously offering other SEO tools such as a keyword research tool, a content research tool, a site audit tool, a site explorer tool, a rank tracker and an organization of organic traffic data. Ahrefs differentiates itself from all other backlink services with the largest base of live links and the best speed of index updates. Ahrefs offers four different paid plans that provide access to a range of features. The first plan, Lite, is valued at $99 per month and provides the most basic features. The Standard plan, at $179 per month, provides an extension on the Lite features and includes some new ones. With each plan, more features are included and extended upon. The third plan, Advanced, is valued at $399 per month and the fourth and final plan, Agency, is valued at $999 per month. A reduction of 20% off these prices is available when you purchase an annual plan.
What is URL Rating?
Two essential aspects of the Ahrefs ranking feature are the URL rating (UR) and the domain rating (DR). In a nutshell, the URL rating demonstrates the popularity of a specific website page by looking at the number of links that are directed to it. The value is a measure of the page's popularity compared to other pages within the domain. The UR is measured on a logarithmic scale from 0-100, with 100 characterizing the strongest backlink profile of a page – not the entire domain. In creating this rating, both external links (from another website to your page) and internal links (within your website to your page) are accounted for. To locate the UR, the url for your specific webpage must be entered in the search engine at the top. The UR is one of the first ratings that come up on the home page. Here is an example using the webpage for Air Canada's description of their fleet:

The calculated UR value in Ahrefs is accurate for a variety of reasons, the most prominent of which being that the "nofollow" html attribute is considered. The nofollow attribute ensures that hyperlinks are not counted in influencing the ranking of a backlink profile in a search index engine. This improves the quality of the search engine results by reducing search engine spam.
What is Domain Rating (DR)?
The domain rating (DR) also dictates the strength of a backlink profile, but in regards to the entire website rather than a specific page. As a result, the DR and UR are measured on a different scale – DR is domain based and UR is page based. Despite this slight difference, DR is still a value measured on a logarithmic scale from 0-100 according to strength. Knowing the DR value is very beneficial for understanding the overall link popularity of your website as a whole. The domain rating also allows you to estimate where your site ranks in terms of gaining search engine traffic.
Referring back to the Air Canada example, the DR can be located below: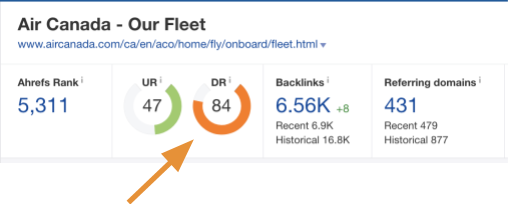 The DR is calculated in an efficient and thorough way to ensure accuracy. For example, DR is not improved when one external site has multiple links to your site (avoids double counting) and nofollow links from other websites do not increase DR. Disregarding nofollow links is important as the DR measures domain rating so hyperlinks cannot be excluded in this calculation.
The domain rating has such a major impact on the overall Ahrefs ranking that it is almost the same. This occurs due to the fact that Ahrefs ranks are ordered by domain rating, so the highest ranks also have the highest DR values. The ranking can be found below by clicking on the Ahrefs rank button.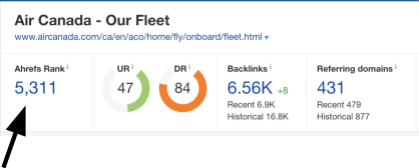 This will redirect you to a comprehensive list outlining where your website ranks compared to all websites in the Ahrefs database.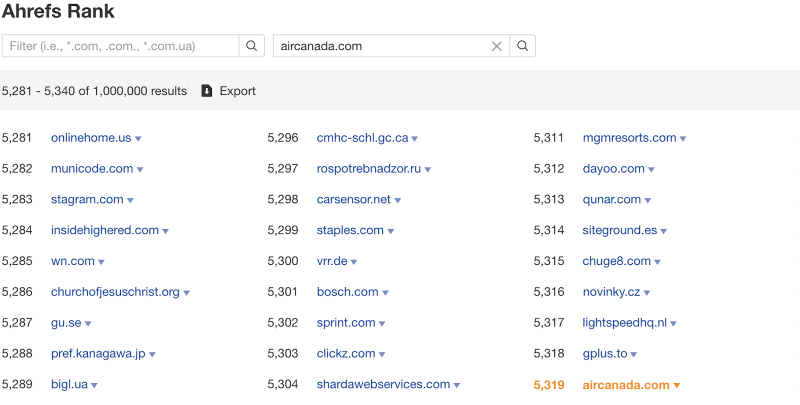 Checking Backlinks in Ahrefs
Conducting a backlink profile check to uncover where your site stands in terms of the competition and to detect spammy backlinks is an essential step in analyzing SEO. To do a basic backlink audit, you must look at the number of backlinks and referring domains linking to your site. This can be done by entering your URL into site explorer and choosing Prefix mode for the domain.

You can then check your backlink acquisition rate over time by analyzing the referring domains graph found on the main page of site explorer. This graph unveils the absolute numbers by hovering over a point, so you can see cumulative growth or decline of your backlink profile between dates.

The referring domains graph of Air Canada's website above demonstrates that around December 2018, there was a small decline in backlinks which began to increase again in January 2019. Since then, Air Canada's backlinks have experienced steady growth with relatively small fluctuations.
To compare backlink acquisition with competitors, you can repeat the same process entering their URL into the site explorer instead. This will provide you with access to their referring domains graph so you can see their backlink growth/decline in comparison to your own.
Identifying Spammy Backlinks
The referring domains graph can be used for more than just analyzing backlink growth. It can also identify any negative SEO attacks. A spike in the referring domains graph, similar to the one below, indicates that your website has been victim of an attack in the past where the sites rankings were demoted. Tactics for this attack can be in various forms, including an influx of spammy backlinks, fake reviews and sending fake link removal requests.

Aside from checking the referring domains graph for indications of spam, Ahref also allows you to check the proportion of links from spammy CTLD's through the CTLD graph. CTLD's that consist of: .com, .net, .org, .edu are safe, while CTLD's that consist of: .cn, .gq, .jhk are a sign of spam. It is also important to look at the percent distribution of these CTLD's. If spammy ones are less than 5%, your site can be considered safe. The graph can be found by scrolling to the bottom of the overview report (the main page of site explorer).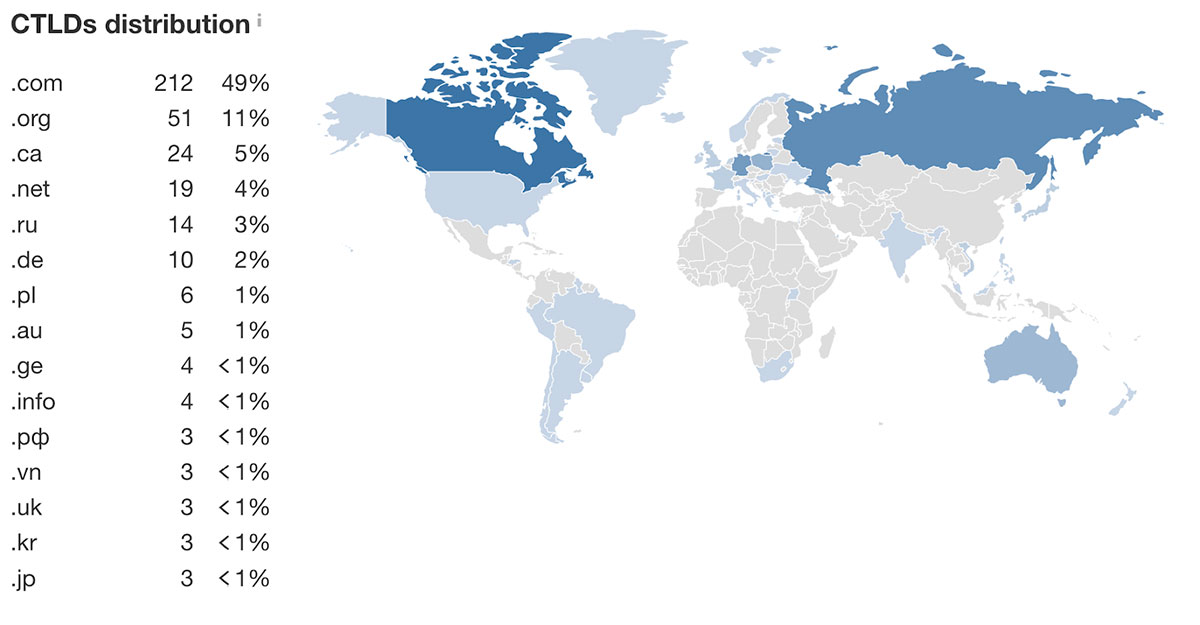 For the Air Canada CTLD distribution above, we can tell that the site is safe and spam-free because the majority of CTLD's are .com, .org, .ca etc and CTLD's such as .ru, .de are simply domains for other countries.
Indications of spammy backlinks can also be found in the anchor text profile of a site. This displays the clickable words that make up a link, showing whether or not this text is branded. If it is branded and if the text relates to the site, this represents a safe backlink. If the text is not branded and/or includes crude language, this is an indication that the backlink could be spam.
The Anchor text Profile can be found by scrolling to the bottom of the overview report, underneath the CTLD's graph. Here you can click view full report and the following should be generated: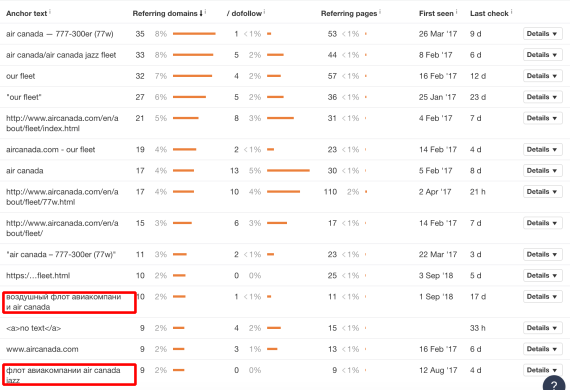 As we can see from this list, almost all of the anchor text is branded and relevant to the site. There are however two anchor texts that do not appear on first glance to be relevant because they are in another language. This can either be a sign of spam or simply just the anchor text translated into another language. By translating the language of these two texts, it appears they only say "airline fleet" in Russion and therefore are not spam.
If the anchor text profile of your site, CTLD graph, and referring domains graph have indicated spammy backlinks, it is necessary to get rid of them using Google's disavow links tool. This tool protects your site against link-related penalties by instructing Google to ignore specific backlinks in the ranking of your site. To do so, you need to submit a text file that contains the linking pages or domains that you would like the search console to disavow.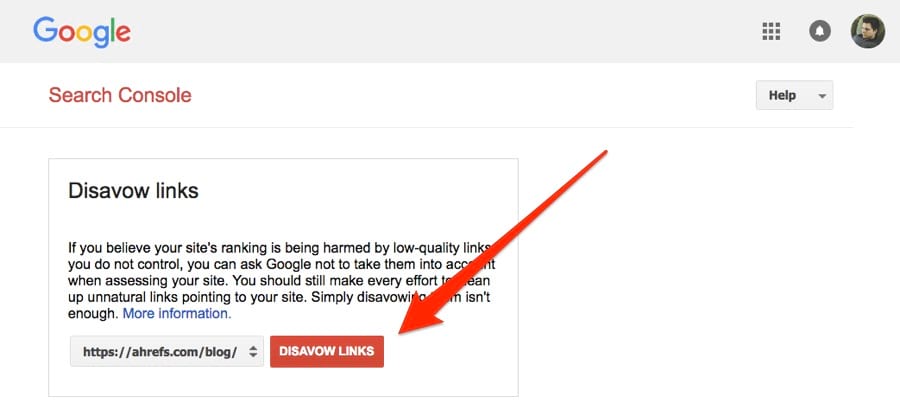 Image From:https://ahrefs.com/blog/google-disavow-links/
Majestic Vs. Ahrefs
Majestic and Ahrefs are both efficient backlink checkers, however Ahrefs provides much more in-depth reports and graphs to do so. In terms of charts and graphs, Ahrefs displays two: referring domains and referring pages. Majestic on the other hand only has a backlink history graph that is non-interactive and non-cumulative, displaying only the number of external backlinks viewed each day and failing to include how many backlinks the site is acquiring over time. This difference allows Ahrefs to offer a comprehensive history of backlink popularity over the years and prevents Majestic from doing so. Due to the history Ahref shows, you can also identify negative SEO attacks on their graphs over time that you cannot see on Majestic.
Ahrefs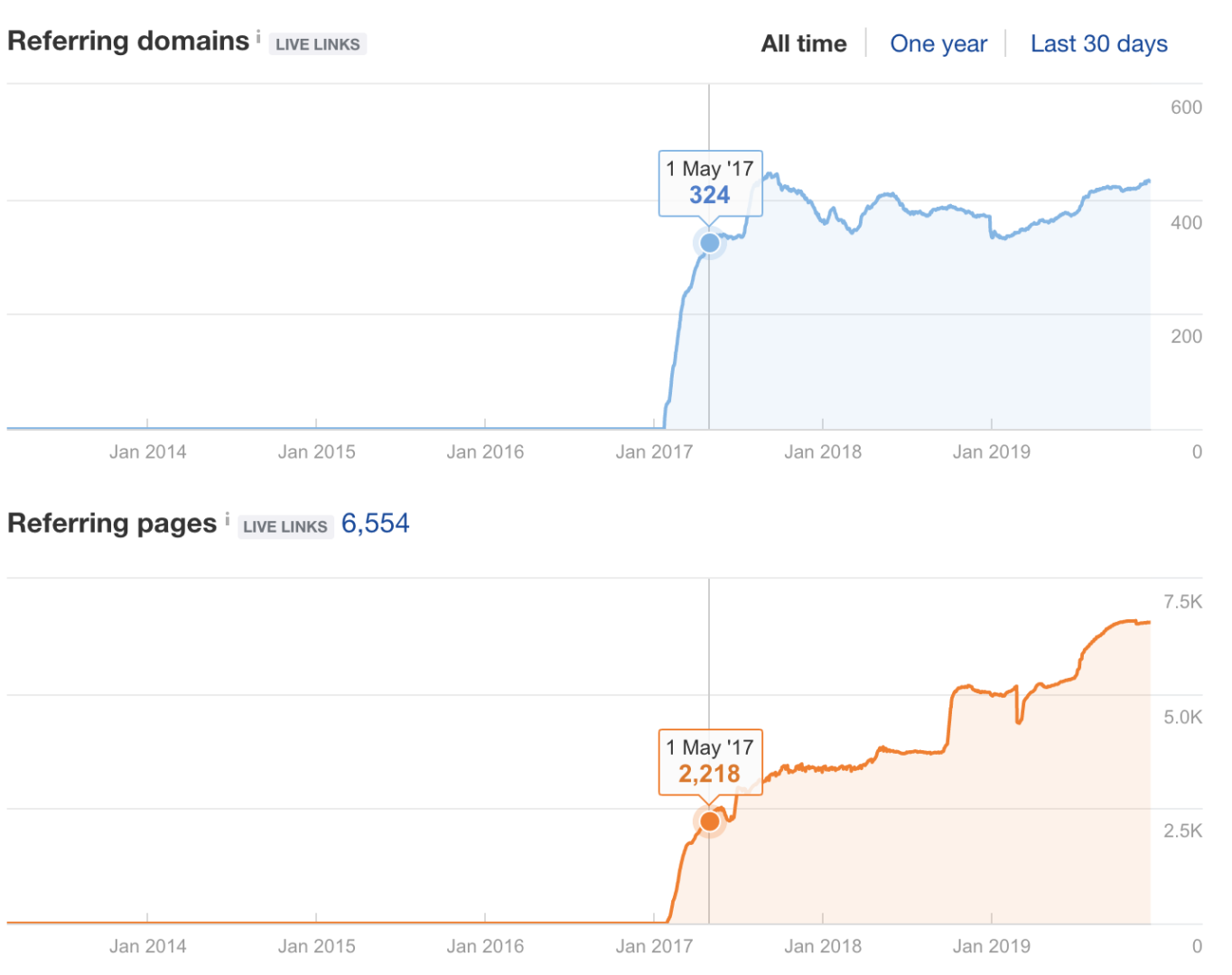 Majestic

The Majestic and Ahrefs backlink reports are also vastly different, with Ahrefs once again providing better service in this category. This is because Majestic is limited when it comes to showing the total number of backlinks – the site can only export a limited amount of data, so the report is only a subset of the top data. You would have to purchase an advanced report to gain access to data that Ahref provides in their simplest report. Ahrefs shows the total number of backlinks, as the site allows you access to export all data, not just a subset.
Another main difference between Majestic and Ahrefs is the language they use for rankings. Majestic employs Trust Flow and Citation Flow, while Ahrefs uses URL Rating and Domain Rating. Similar to UR and DR, TF and CF are measured through a 0-100 logarithmic scale according to strength. Citation flow measures the popularity of a backlink, while Trust flow measures how trustworthy a site is by measuring its quality. Both languages are similar in the sense that they include popularity of backlinks for both the specific pages and overall domain, however Majestic groups them together into Citation Flow while Ahrefs separates these into UR and DR. The danger of grouping them is that you cannot determine whether it is your hyperlink that is the most popular, or specific page links – you cannot compare them to decide where growth needs to occur. Ahrefs, however, does not include the overall quality and trustworthiness as a measure that Majestic displays in Trust Flow.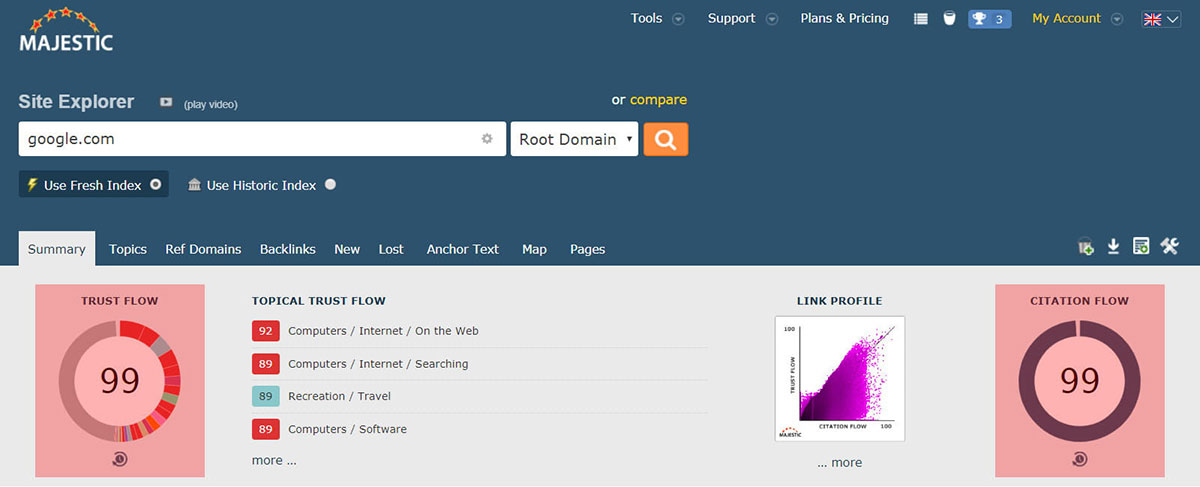 Image from https://armament.solutions/tactics/link-penalty-remediation/remedial-link-audit.html
Finally, the pricing of the two sites differ. Majestics "Lite" plan is considerably cheaper than Ahrefs, valued at $49 USD a month instead of $99 USD per month. Majestics Pro plan is $99 USD per month and their API plan is $399 USD per month proving that the site is, indeed, much more economical.