Motion Invest is a place where you can buy and sell websites. My name is Ryan Gunn and I am the Seller Representative for Motion Invest. In this article, I will go into detail about our process of how to list your website with us.
Step 1: Visit MotionInvest.com & Select 'Free Site Valuation'
The first step is to visit our website (MotionInvest.com) and then select the 'Free Site Valuation' button in the top right corner.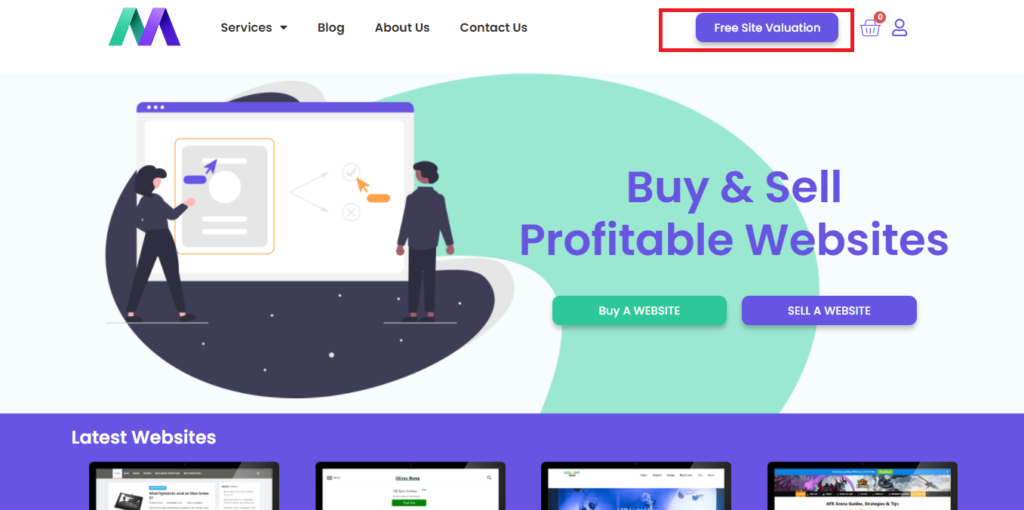 Step 2: Fill Out The Form About Your Site
The next step is to fill out the form and answer the questions about your website. We ask you the following questions:
1) Your Email Address: So we can contact you directly.
2) Name Of Seller: So we know who we are talking to in our communication.
3) Site URL: So we know the exact site that you want to sell and so we can take a look at it.
4) Monetization: So we know all of the ways that you monetize the site.
5) Income Trend: So we can get an idea of where the website is at in terms of earnings/ traffic.
6) Income Proof: So we can formulate our follow-up emails accordingly with what we will need.
7) Analytics: So we can take a look at the analytics of your site, which plays a key role in due diligence.
8) How did you hear about us?: So we know how you were able to find us.
Step 3: Estimated Website Valuation
After you fill out the form, you will receive an estimated website valuation from us. This is a quick snapshot of what your site could potentially be worth, using general data. Some important things to note:
This is NOT an offer from us. In order to get an actual offer from our side, you will need to complete our due diligence process. This estimate is just a quick and easy idea for anyone who wants to see some average website selling data.
This also doesn't represent the true valuation of your site. A wide variety of factors go into evaluating a website. This includes things like backlinks, traffic, income, niche etc. As a result, you might end up with a higher or lower offer from us after your site completes due diligence.
The real valuation comes from our due diligence process. Follow the steps below for more information on that. That is where we do a deep dive into your site. If it passes all of our checks, we send you an offer.
Step 4: Submit to Due Diligence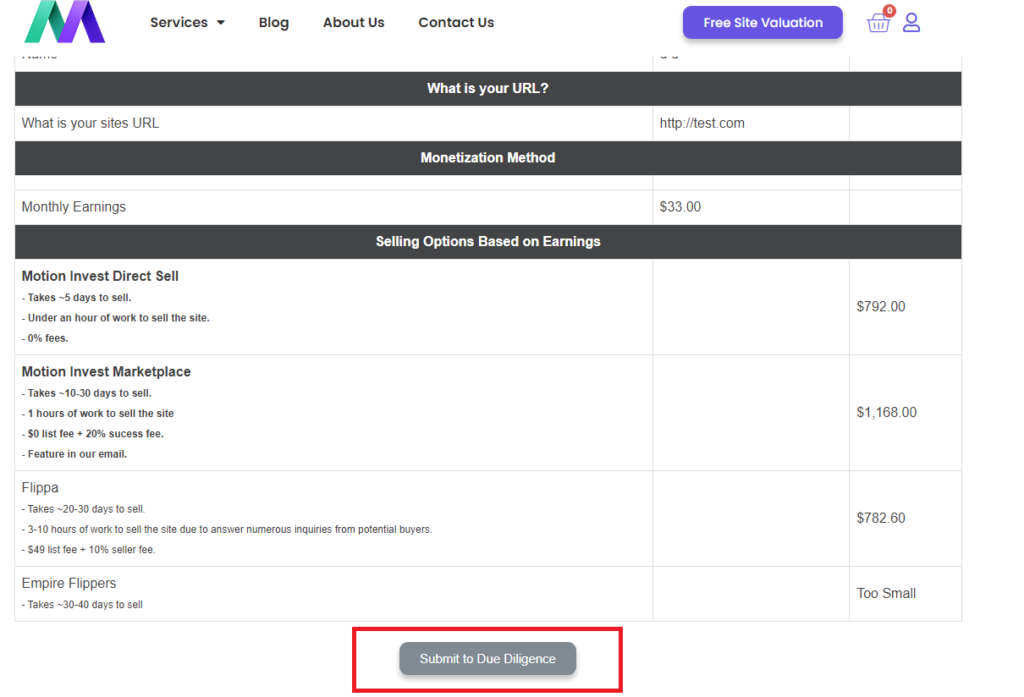 If you choose the option to submit your site to due diligence, you will receive an automated email from selling@motioninvest.com. This will let you know that our team has received your information and we will be reaching out within 24 hours with what else is needed on your end. This will include making sure we have proper Google Analytics access and what we will need from you in terms of income proof.
Step 5: Our Team will Send You A Follow Up Email
At this stage, our team will reach out and let you know what we need from you. Here are some popular things that we will ask for in our follow-ups:
1) Google Analytics Access
We will need 'viewer' access (aka read-only access) on Google Analytics to evaluate your site. We also need around 5 months of data at the minimum to work with. If your site doesn't have any analytics data, we won't be able to evaluate it. If your site only has 2 months of data, chances are that we will pass on evaluating the site until we have more data to work with.
A popular question is if we accept Google Search Console data if a site doesn't use Google Analytics. The answer is no as for our process we need the Google Analytics data to work with and can't just use Search Console.
Also, if you use a Google Analytics alternative, please let us know. We have worked with sites that use things like Clicky and other things like that for analytics. We will just need to be set up as a sub-user account so we can view and work with the data.
2) Income Proof
Depending on your site, we will ask you to send us specific income proof data. We like to break down earnings by month over the past 12 months (if possible). For example, we like to get the exact earnings from the affiliate program for the month of January, February etc.
We also try to include your website name/ tracking ID on the income proof data if possible. That way, we can confirm that earnings come from the specific site you are selling and not any others. On some affiliate programs, this is very easy. On others, it might be a bit trickier.
Below is an example from Commission Junction. As you can see, the exact earnings for each specific month are displayed. The income proof also displays the website name as well: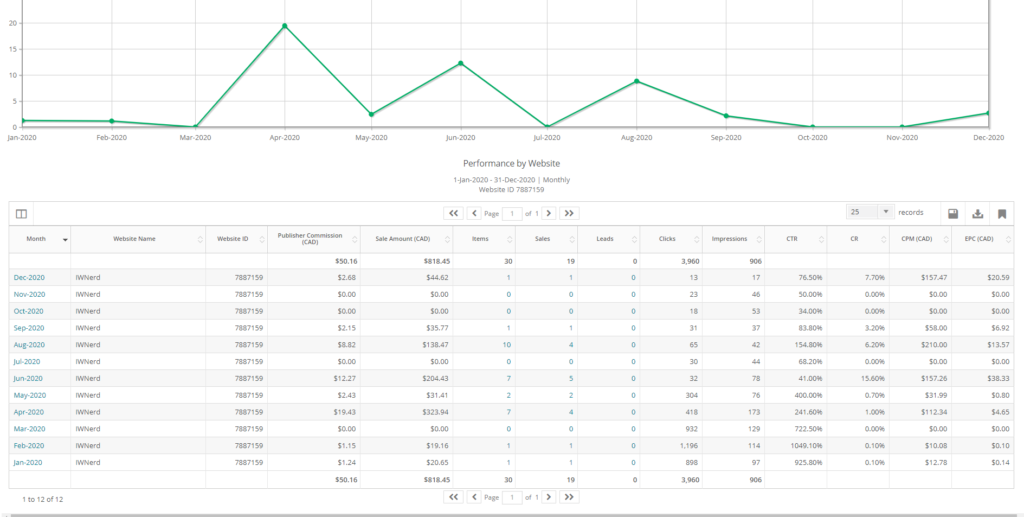 At this stage, our site may also decide to reject your website. There are a wide variety of factors that could go into your site being rejected. A popular reason is because you are trying to sell something other than a content site (E-Commerce, SAAS, etc). We focus on content sites and if your site doesn't fit our criteria, we will send you a rejection email.

Step 6: Due Diligence Process
After we get all of your information, we can start the due diligence process. You will receive an email from Ryan@MotionInvest.com, letting you know that I have passed everything over to my due diligence team and will provide you with an update as soon as possible. I will also ask you if I need anything else from you to complete our due diligence.
Due diligence is where our team does a detailed check on the site, including things like traffic, income proof, backlinks, plagiarism etc.
Typically, this process takes about 7 days on average, depending on how many sites we have in our system and if we have all of the proper information on your end. Some sites can be quicker, some can take a bit longer.
If your site fails any of our checks during due diligence, I will send you an email and let you know that we are passing on your site. This could happen for a wide variety of reasons, including organic traffic percentage, traffic drops, plagiarism fails, and more.
A popular question is if you can still list your site on our marketplace, even if your site fails our due diligence process. The answer is no as we only list sites on our marketplace that pass due diligence.
Step 7: Sending You An Offer
If your site passes all of our checks on our due diligence process, we will send you an offer. Most likely, this will be a Marketplace offer. We use a dutch auction for listing sites, which means that the site will start at a certain multiple and decrease by x amount every two days until it sells or reaches its reserve price.
Our offer will include the listing price, which is the price that the site will start listed at on our marketplace. It will also include the reserve price, which is the lowest price that it can possibly sell for. It will also include the amount of money that it will decrease by every two days.
Step 8: Accepting The Offer
Let's say that you accept the offer that we sent to you. In that case, we now need to get your site ready to be listed on our marketplace. Here is what we will need:
Provide Us With The Proper Google Analytics Access (Admin)
We will give you a specific email address, where you need to provide us with Google Analytics access as an admin. This is done so we can provide interested buyers with viewer access to analytics (without having to ask you every time to add someone).
Answer Our Q&A Questions
We have several questions that we will need you to answer about your site. This includes things like what you would do to grow the site, what have your biggest challenges been and more.
It is always recommended to answer the questions in detail so potential buyers are able to get a better understanding of what they would be buying.
Sign The APA
During this stage, we will send you an APA to sign. This is an online document that outlines the terms of our marketplace agreement. This includes things like the listing price, reserve price, commission, and more. It is sent in the form of a Pandadoc that you can sign online.
Step 9: Our Team Develops The Listing Page
After you have provided our team with everything, we will be able to start building the listing page. This will be the final step before your site goes live on our marketplace.
Generally, we try to get each site listed within a few days of the APA being signed. We don't list sites on Saturday and Sunday, so this can sometimes extend a few extra days depending on when the APA gets signed and how many sites are in our system.
Step 10: The Site Goes Live Our Marketplace
I will send you an email when the website has officially hit our marketplace. Our team will send out an email to our list and we will try to get the website sold as quickly as possible.
There you have it, that is the process of listing a website for sale on Motion Invest. If you have any questions, please feel free to email ryan@motioninvest.com and I would be happy to try and help.