5 Companies That Buy Websites
In this article, we're examining the top companies that buy websites. If you're a motivated seller of an online asset, then you are surely interested in securing the highest possible return for your sale. We're going to examine 5 companies that buy websites or offer online broker services. These are two of the most popular ways to sell websites online, and we will examine whether this is a worthwhile alternative for your internet business.
What is a Website Broker?
Typically, when selling an online asset, you will use the help of a website broker. An online broker is similar to a broker for any sort of sales activity. A broker will essentially organize and facilitate a sale between buyer and seller.
A website seller will enter into an agreement with a broker which will typically give the broker exclusive rights to sell their asset. Then, the broker will perform a comprehensive valuation of the asset in order to settle on an attractive purchase price. They will use this purchase price to create a compelling listing, and then market the listing to potential buyers on a website marketplace. It is the broker's job to attract potential buyers, and generate enough interest to secure the highest return possible. Once the sale is made, the broker will then handle the legal, contractual and monetary details of the sale.
Some online brokers will also purchase a website outright before selling it, as we implied with the title of this article. This might be a viable alternative for both parties. For the seller, it expedites the process and eliminates some of the risk, and gives them cash in hand right away. For the buyer, they then have the opportunity to flip the website for a more profitable website.
In the next section, we'll examine 5 online companies that buy websites or offer broker services. Each company offers a distinct business model which may .We'll examine the differences in their services offerings, and identify each business's unique advantages.
5 Companies That Buy Websites
In this section, we're examining 5 of the most popular online companies which sellers often turn to. These are popular choices for getting your website sold. These companies offer varied service offerings. Some will purchase your website outright, some will offer broker services, and some give you the opportunity to list your site on an online curated marketplace. Let's take a look at each alternative, and evaluate their service offerings, price structures, and more: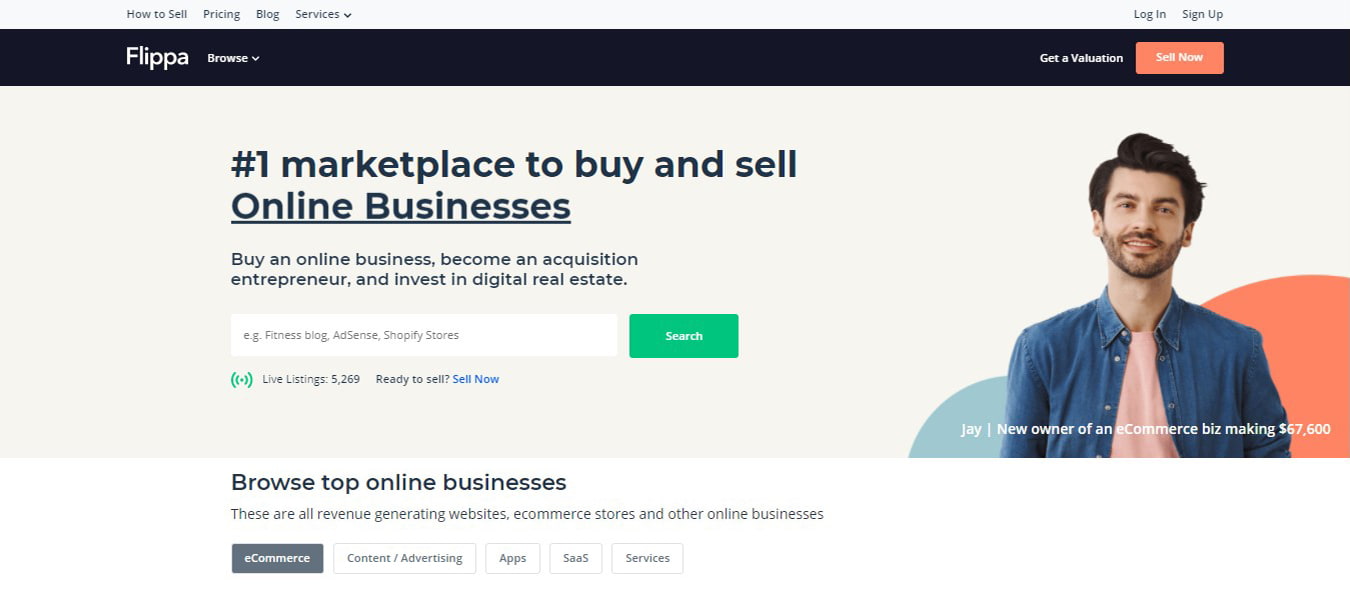 Flippa is probably the most popular online marketplace for buying and selling websites. Although Flippa doesn't purchase your website or domain name outright, it is worth looking at just because of how large their online marketplace actually is. Simply put, if you list your asset on Flippa, it will get seen. Therefore, if you create a compelling listing that is worth buying, you should have no troubles your piece of internet real estate on Flippa.
The main competitive advantage of listing with Flippa is that they host an online marketplace that is frequented by many buyers. This means more eyes on your listing and a higher chance that it gets sold. Flippa also offers its own valuation tool, which will help you settle on a fair selling price. Flippa has a list of "trusted" brokers which you can work with to sell your website. If your sale is successful, Flippa takes a percentage of the sale as a "success fee."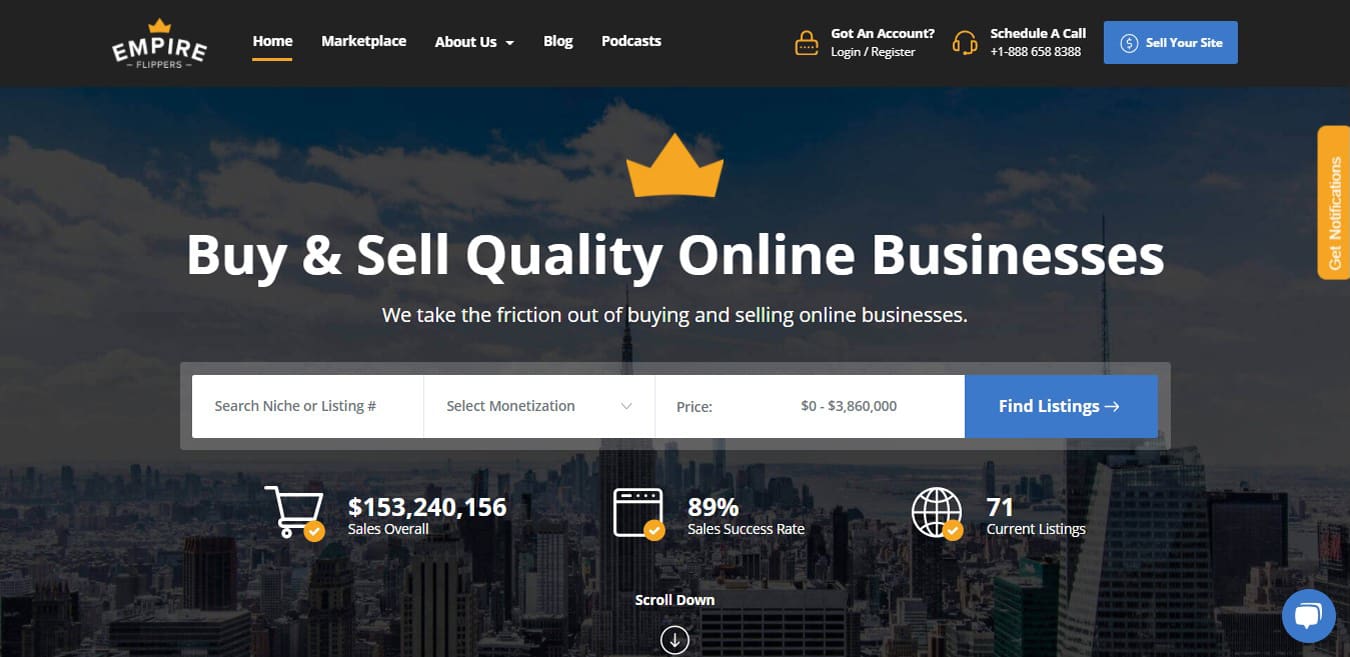 While Flippa has the advantage of a large online marketplace with many potential buyers, Empire Flippers is more towards the other end of the spectrum. Empire Flippers is a broker service that takes a more personal approach to each listing. They work with you to give you more personalized help in selling your ecommerce business. Like Flippa, they will take a "success fee" upon a successful sale.
Empire Flippers is a bit stricter in its approach than Flippa. You actually have to complete an application process to be approved for their marketplace. Their team will review your asset, and see whether it is worthy of listing on their curated marketplace. From there, they will promote your business, and help you secure a real offer from an interested buyer. They will help you evaluate offers and structure deals, and even handle the transfer of the online asset.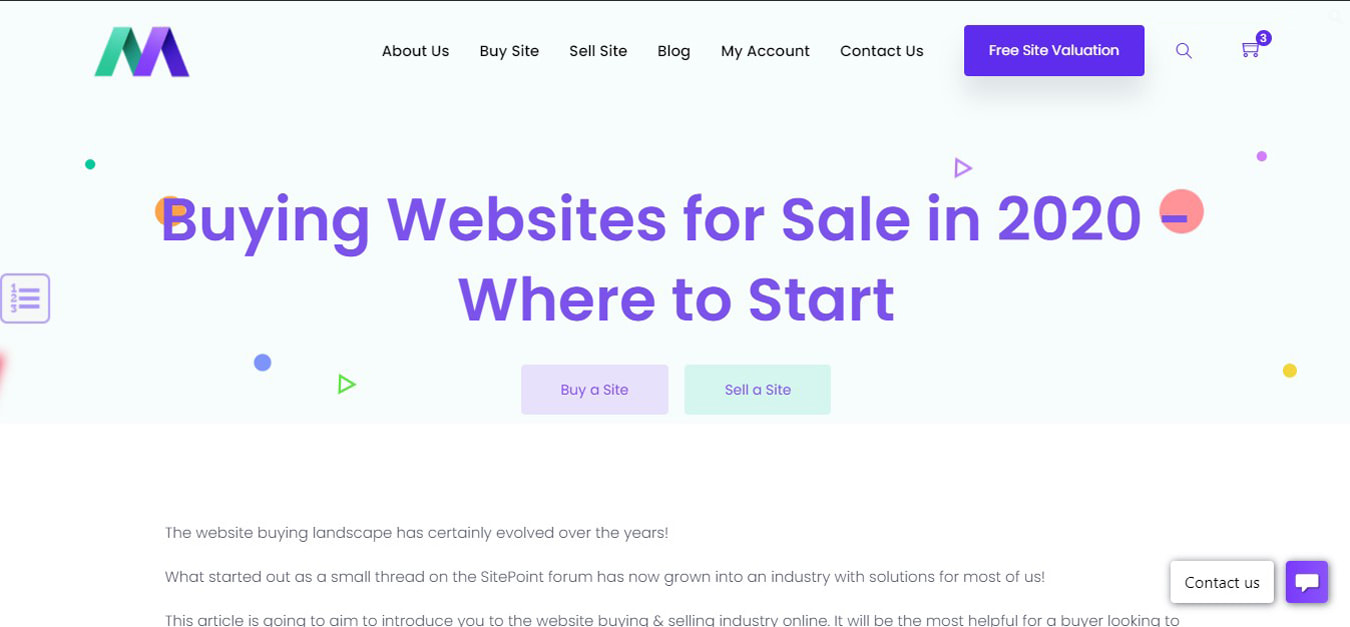 Motion Invest differs from many of the options on our list in that they specialize in working with sellers who have lower net worth assets. While many of the options on our list require high traffic and revenue figures to broker or list a website, Motion Invest will actually work with sellers who have revenue streams on the lower end ($50-$2000/month).
Motion Invest will sometimes actually purchase the online asset before they list it for sale (if the asset passes due diligence). This direct sale method expediates and simplifies the process. The seller is happy that they have completed the sale immediately, and the buyer is secure in the fact that Motion Invest is willing to stand behind their product offerings.
Alternatively, you can list your asset on Motion Invest's online marketplace, and Motion Invest will take a "success fee" only once a successful sale is reached.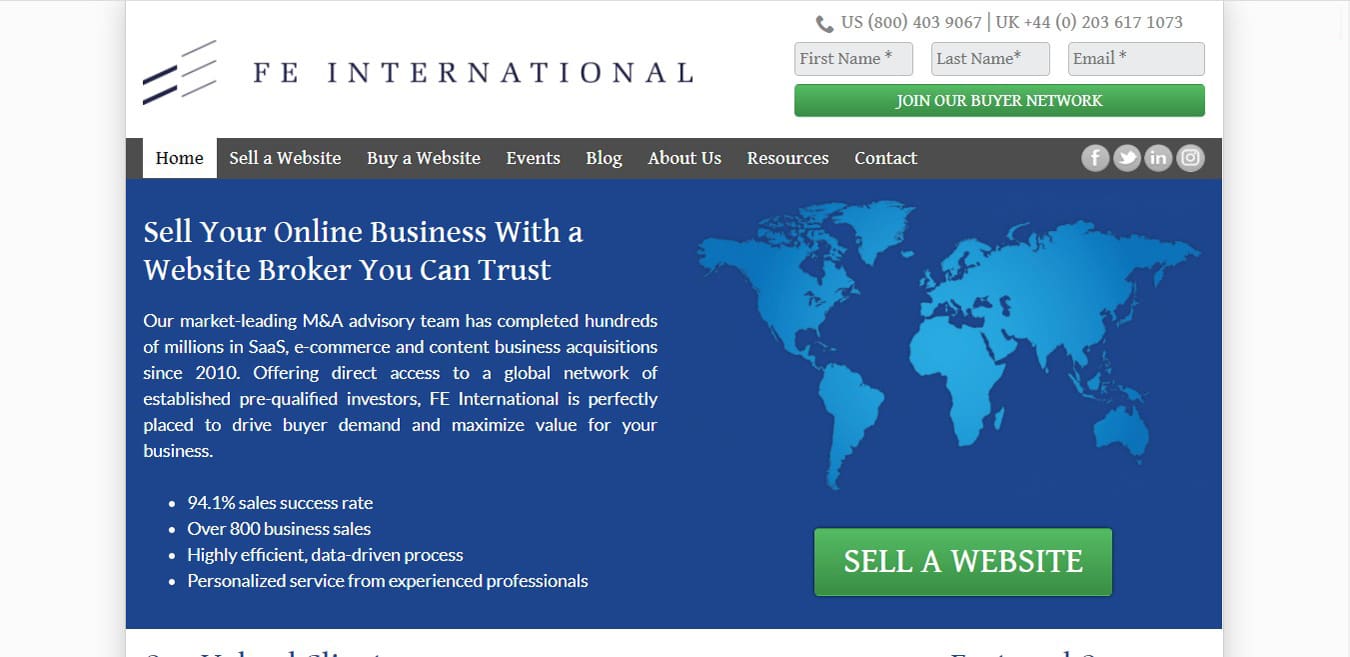 FE International is a website broker which specializes in personalized, individual attention. They also specialize in high-revenue assets. Your website needs to qualify to receive their personalized broker services.
FE International's track record speaks for itself. They have a 94.1% success rate, and over 800 online businesses sold.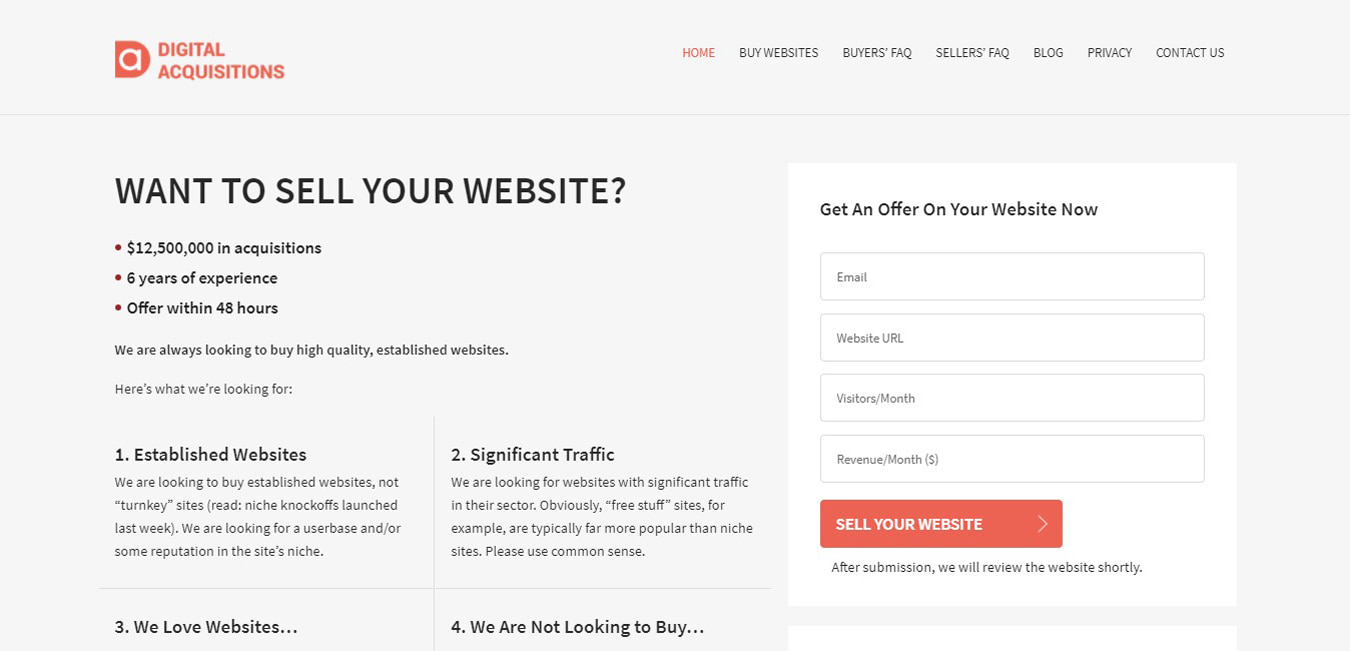 Digital Acquisitions is another established website broker that specializes in high-revenue assets. They focus on established websites with significant traffic already, so it is quite difficult to apply. You have to submit an application to even be considered by Digital Acquisitions.
If your application is successful, Digital Acquisitions may buy your website outright before they list it for sale. If you are satisfied with their offer, you could have an immediate sale on your online asset.
Which Website Broker Should You Use?
So, now that we've examined all your options, and looked at each company's primary service offering and competitive advantage, you may just have one question left – "which online broker should I use?" And although we know it's a frustrating answer, the true answer is that it depends. To decide on an online broker, or a company to which you can sell your online asset, you'll need to examine your own service offering, as well as the help that you actually require.
Our best advice is to evaluate your online asset, and determine what kind of brokerage services may be necessary. Consider whether you can do these tasks on your own, or whether you think you might benefit from listing your offering through an online service. Additionally, it might be the case that your online asset only qualifies for certain services. For example, if you run a website with a smaller revenue stream, then Motion Invest might be your best option.
FAQs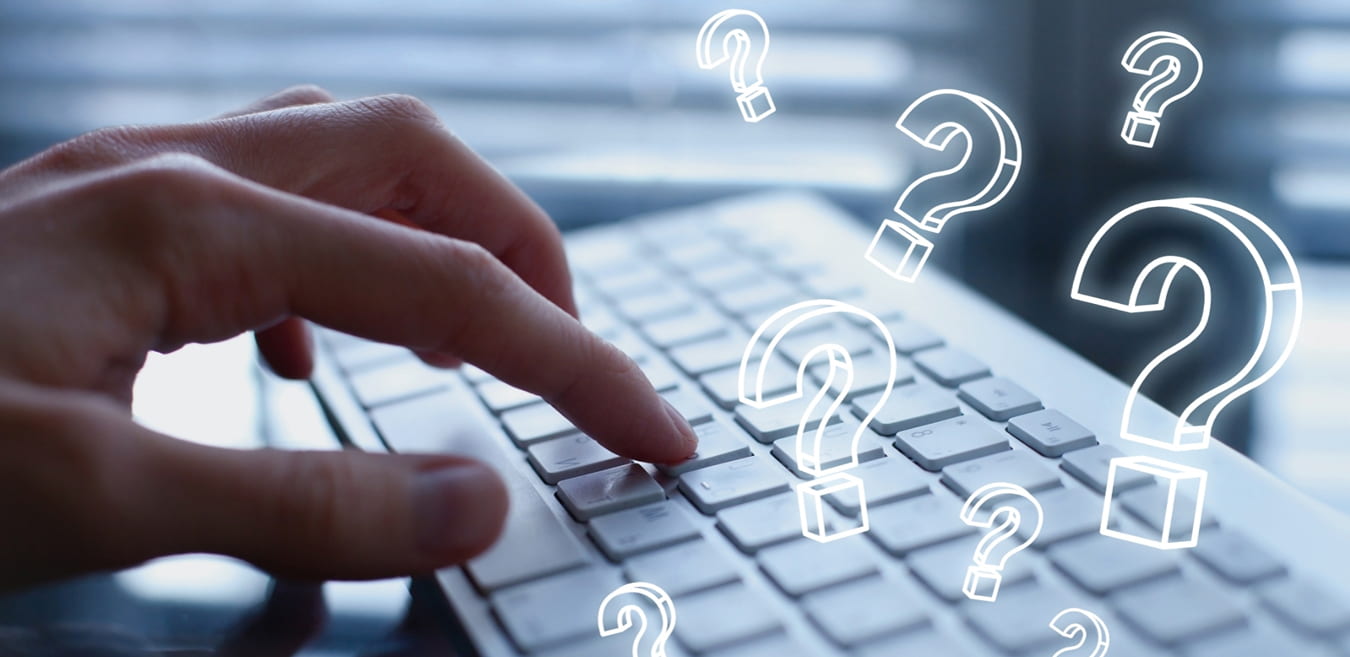 Before we wrap up this article, we thought we'd examine some FAQs associated with selling an asset online.
What is your online business worth?
This is perhaps the most basic question you should ask yourself before you consider selling a website. Evaluating your website's worth is imperative in creating and marketing an effective listing, and receiving competitive offers from buyers.
Evaluating a website involves doing a comprehensive valuation of a website's current and future profit potential. It is a detailed analysis that requires a strong grasp on finance. If you struggle to do these types of analyses yourself, then you may require the assistance of one of the services above.
What is the time frame for selling an online business?
Another common question considers how long it will take to sell an online business. Of course, the answer is that it varies. Depending on the strength of your service offering, as well as the effort you put into creating and marketing a listing, the answer is that it could take anywhere from days to months.
The best course of action is to take your time creating a valuation and marketing it properly to receive interested buyers. This is also the typical process that is undertaken by an experienced website broker. Generally, the process will take months as opposed to days.
Who will buy your business?
Another key component in selling a business is understanding who would want to buy your business. You need to know your target buyer inside and out so that you can cater a service offering to their preferences. This is based upon an in-depth knowledge of your industry, which you should already have at this point in your entrepreneurial journey. This is also an area where a broker can help, as they hold an in-depth knowledge of this type of customer, and will help you to create a listing that appeals to these buyers above all else.
This will help you in securing the highest price possible for your online business.
What does a website broker cost?
As we examined throughout this article, different brokers offer different pricing structures. Many brokers operate on a "success fee" basis, in which they take a cut of a successful sale (typically around 15-20%). However, some do also operate on a fixed cost basis.
Additionally, if the broker purchases your website outright, then there is no associated fee.