Downwards Trend Example (BAD):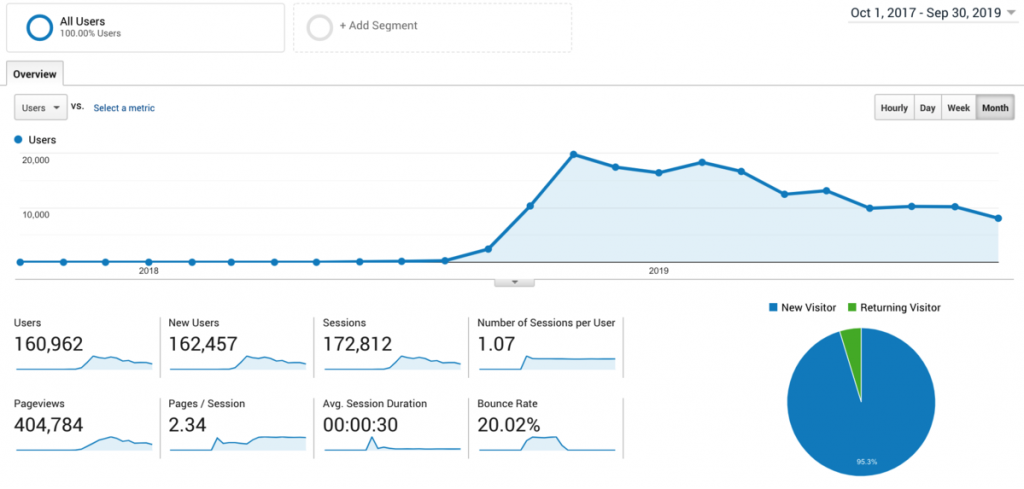 Stable Trend Example: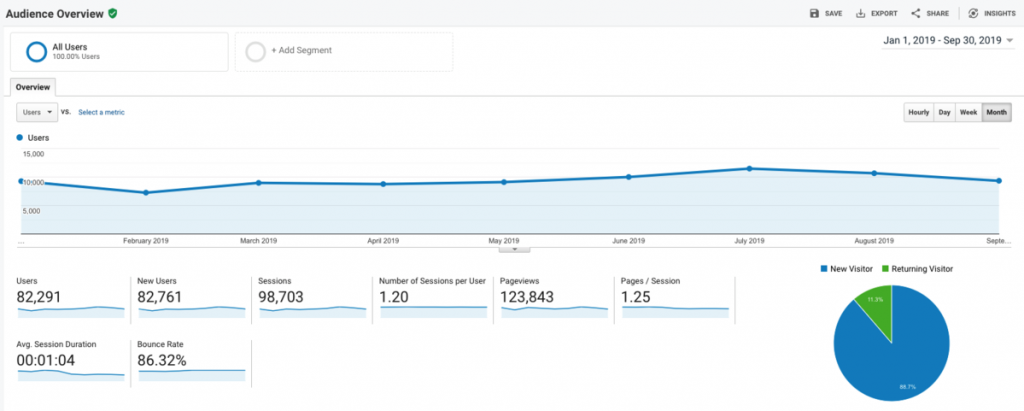 After checking the trend and establishing whether it's stable, seasonal, hilly, or upward, you will want to check where most of the traffic is coming from. If it is an English site, is most of the traffic coming from English speaking places such as the US, CA, UK, AU or is the traffic coming from other countries?
You can view this by following the image below.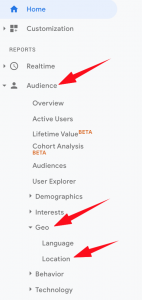 You will then be able to take a look at the graph and see where a majority of the traffic is coming from.
You'll also want to check the bounce rate and avg session duration to ensure that the traffic looks "real." If you have any questions still on if the traffic may be fishy, you can look at the device the visitors are using and you should see a wide range of devices.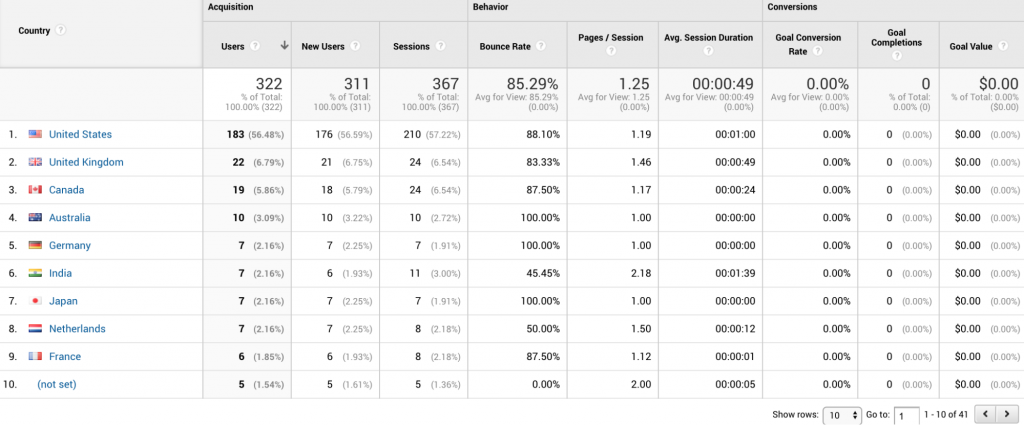 Next, you want to check to see which pages are getting the most amount of traffic. What we're looking for here is that the site DOESN'T have one or two of the pages making up 70-80% of the traffic.You want it to be as diverse as possible.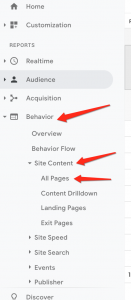 The percentage matters as we don't want one or two pages getting most of the traffic. If anything happens to those pages or articles, the site will lose most of the traffic and income.
We want to verify the sources of traffic to ensure there is a reasonable split between organic, referral (and if there is a large percent of referral will those links stay in place), social media, and direct.
Good:
As you can see from the graph above, the traffic data is spread out nicely as the top page only gets ~12% of the traffic, which means it's spread out amongst a lot of other pages.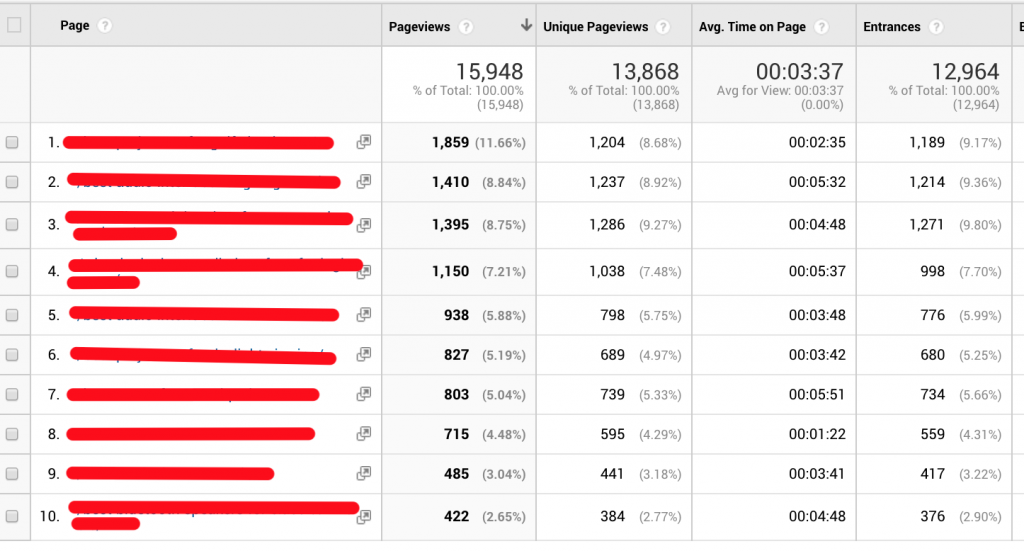 Bad:
The top two pages are bringing in over 92% of the traffic, so if anything ever happens to just these two pages, the site will probably lose most of its income.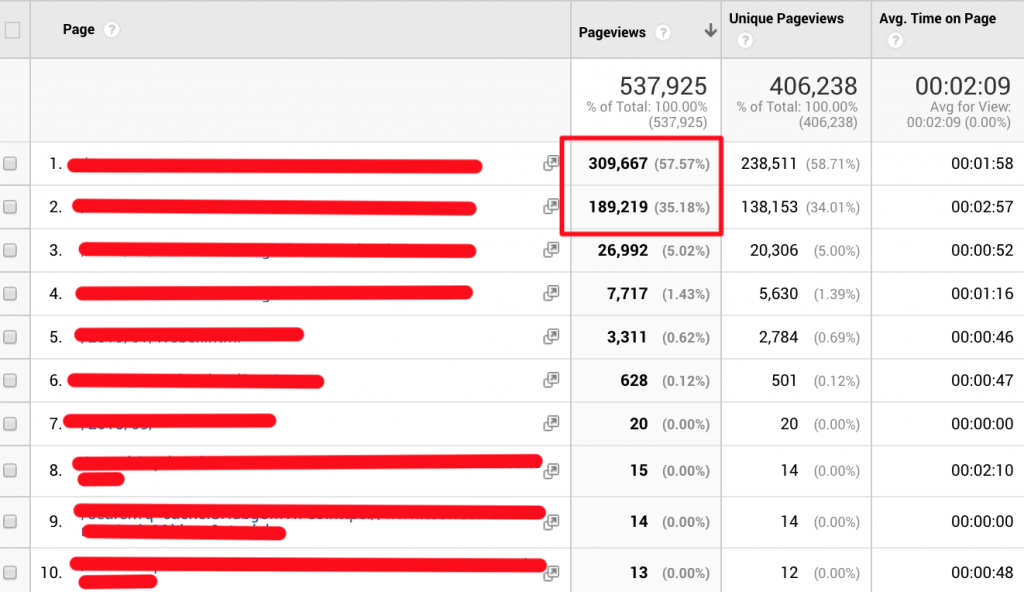 One advanced due diligence check before investing in a site is to check the conversion rate and click-through rate to the platform where the site is monetized. What you want to see are no numbers that appear abnormal such as an Amazon Associate site with RPV (revenue per visitor) above $1 or conversion rate on Amazon above the normal ~5-15%. For click, through rates, we don't want to see anything too far outside of the normal range of around 25% for a well-optimized Amazon associate site.
If any of these numbers are "different," we simply need to investigate to see if we can reverse engineer the logic behind why they are the way they are. If in the end, it all makes sense, that is fine if we are still left confused, we may not want to go ahead with an offer.
In addition to the raw traffic data, you want to look at two additional pieces to get a feel for the site's user engagement.
Blog Comments
If the site has the ability to leave comments on posts, it's definitely a great sign to see people actually leaving comments. An active and engaged community is great as long as it isn't a Cult of Personality (the current site owner's personality) that you can't continue once you acquire the site.
Social Media Engagement
Ideally, we also want to see some amount of engagement on social media channels, although many smaller affiliate sites will have none. So checking to see if there was some engagement is great but this is not critical.
It is best if you see no signs of manipulated social followers as this is another data point to show that the seller was willing to use Blackhat tactics (for example, buying fake followers).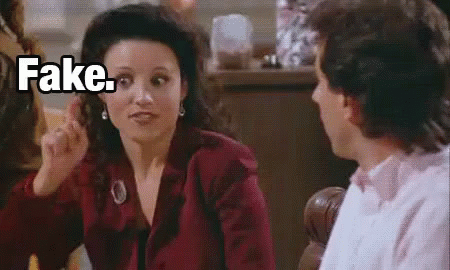 To do the quick Social Media engagement check we use BuzzSumo.com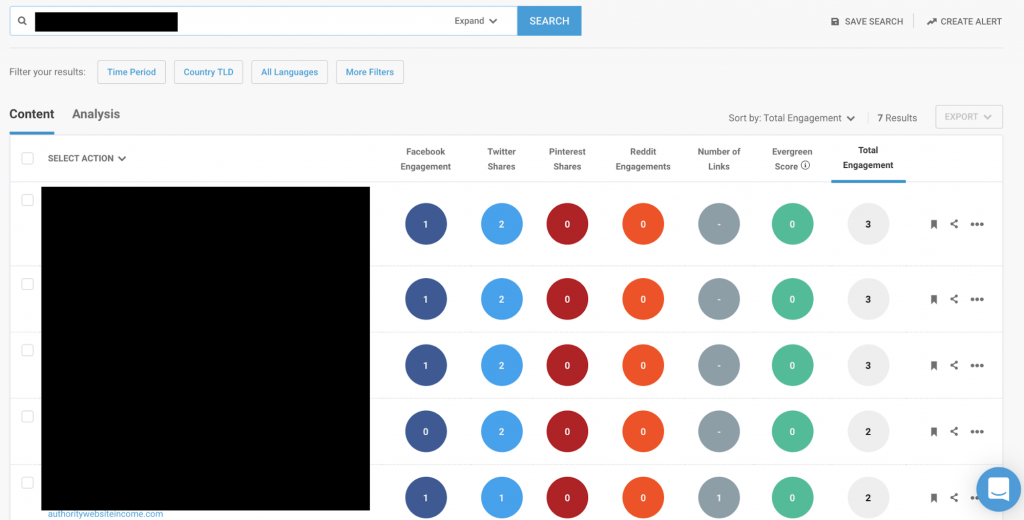 Backlink Verification – Real & Relevant Links
There are a variety of different backlink tools available online, but we choose to use the Majestic product as one of the tools because we believe it to be quite accurate and it also provides some unique visualizations of the data.
It's important to check the backlink data of the site because there could be some spammy links that may not be hurting the site right now, but later down the road could result in a Google penalty and in turn a loss of your rankings or even becoming deindexed from Google altogether.
To check the domain, you would start by copying the domain name from the actual site and pasting it in Majestic.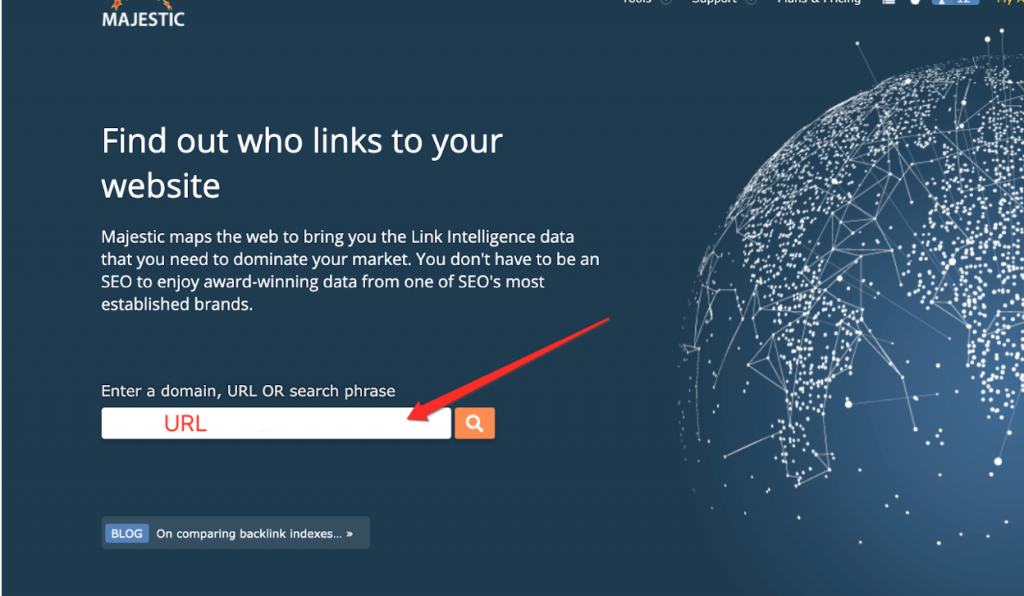 If you get this below where no TF and CF shows, then the site is no good or it could mean they are using their robots.txt file to block Majestic bots but this is very rare (about 1/50 sites) and if they are blocking then they may have a sketchy reason for blocking.
One valid reason for blocking majestic or other crawlers would be if the site was MASSIVE with low-value RPM and wanted to keep its hosting costs down.

If you see something similar to the image above, you may want to stay away from this one.
Here are some more examples:
Example of a Bad Backlink
As we can see in Majestic, it has a trust flow of 8 and a citation flow of 24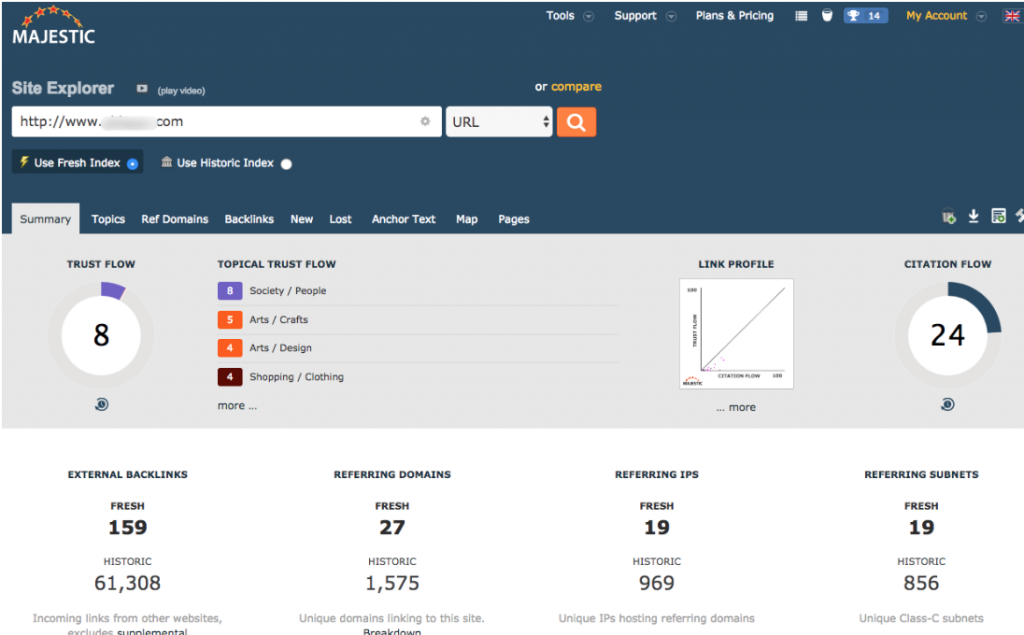 But there are two other places that need to be checked as well: the anchor text profile and the backlinks.
For the anchor text profile, you can see that there are not only spammy words being used but also foreign anchor text. This is a clear sign that this domain has been abused.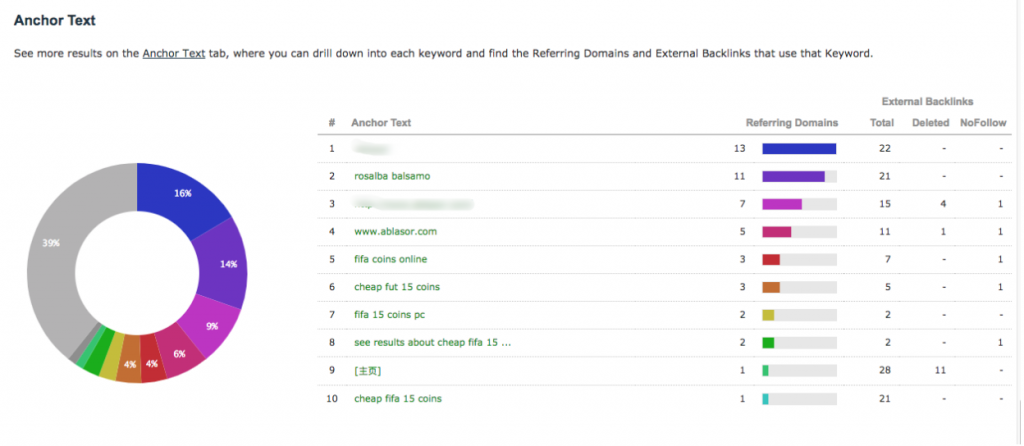 However, sometimes the Anchor Text appears to be normal and we would have to also check the backlinks to ensure there isn't any foreign or spammy links.

As you scroll through the list of backlinks, first check to see if there are any unusual or foreign text.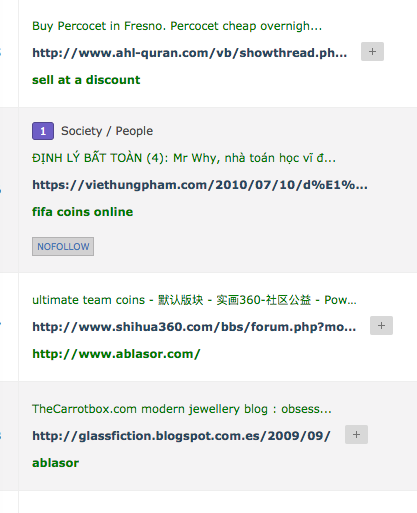 If there isn't anything that stands out, click on a few links and open them up to see if there is anything suspicious that pops up.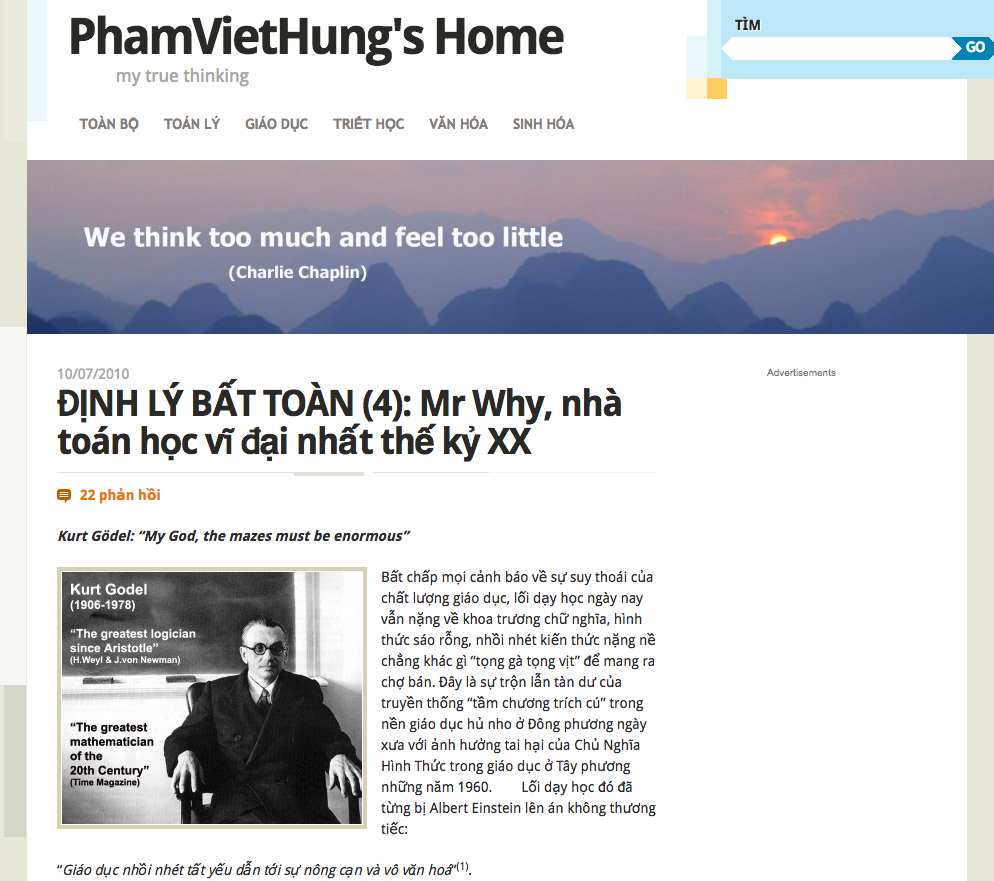 When we open up a few backlinks, we get some pages that look like the above image. This is a clear sign of spam. It has no relevance to the website we are analyzing and it's also foreign.
If we see these types of things, we will not buy the site as we believe down the road; the site may take a dip or get hit with a penalty.
It is very hard when analyzing backlinks to give a hard go or no-go but after reviewing thousands of domains, our team has a good handle on what backlink profiles look "real" and "relevant." 
Example of a Good Backlink Profile:
As you can see from the image below, Trust Flow and Citation flow are very high. The topical trust flow's first category is Recreation/Pets, which is good because the site is about pets.
The referring domains are also high (above 10), which is a good sign as it means there are a lot of sites linking to this site.
This backlink profile below is VERY good and would not be the typical profile for a smaller site.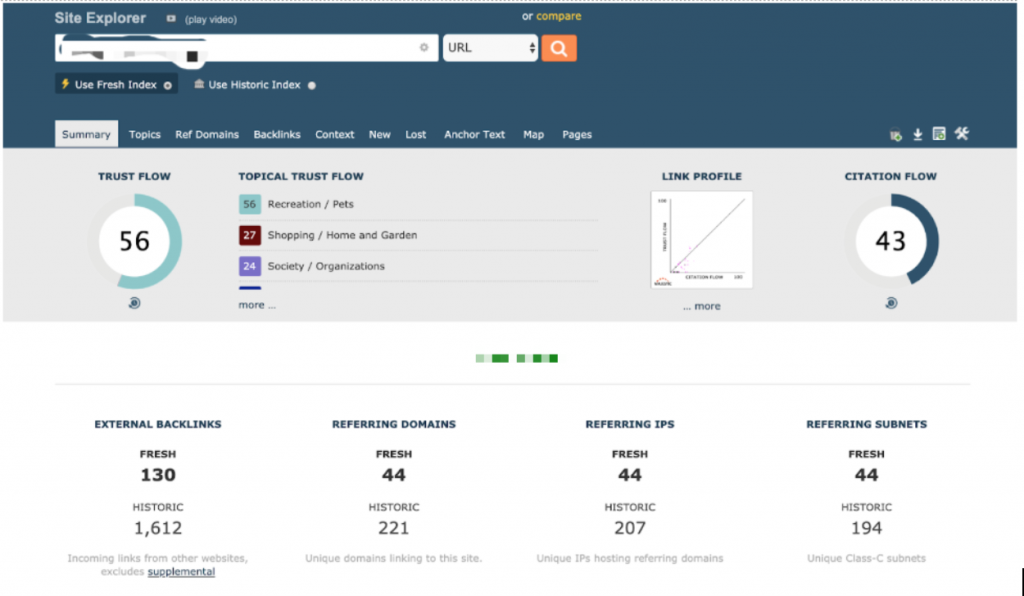 Next, we want to check the anchor text to ensure there isn't any foreign text.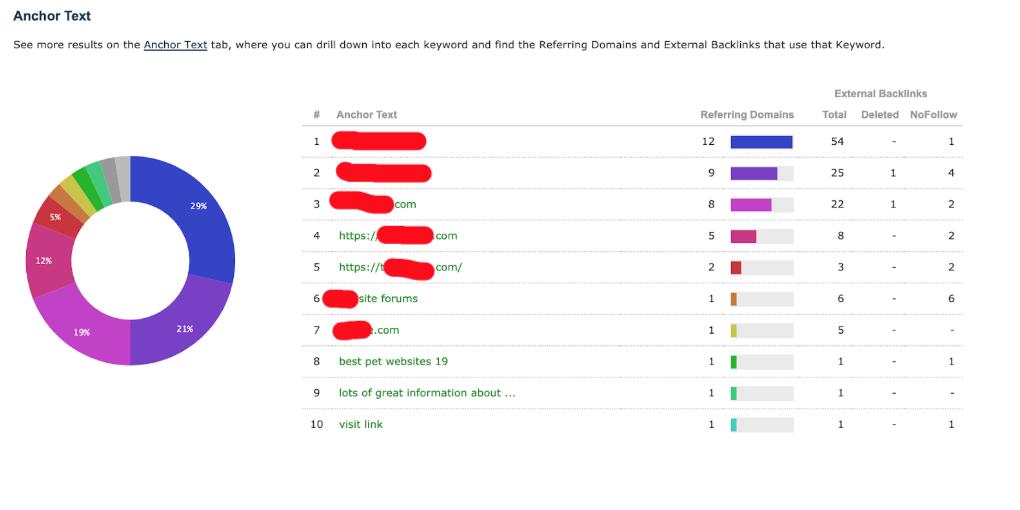 As we can see, there isn't anything spammy or foreign language in the anchor text profile. The blocked out red lines are mostly to do with the site's name.
Next, we are going to look at the backlinks of the site to ensure they are not being linked to from foreign sites or PBN sites. To do this, you want to go to the backlink tab and open up a few of the sites to see what the pages look like that are linking back to the site.
On a good site, they will have backlinks from real and relevant sites. We would like to see some in-content links. If the site is only blog commenting links and directories, this means there aren't any quality sites linking to the site your analyzing.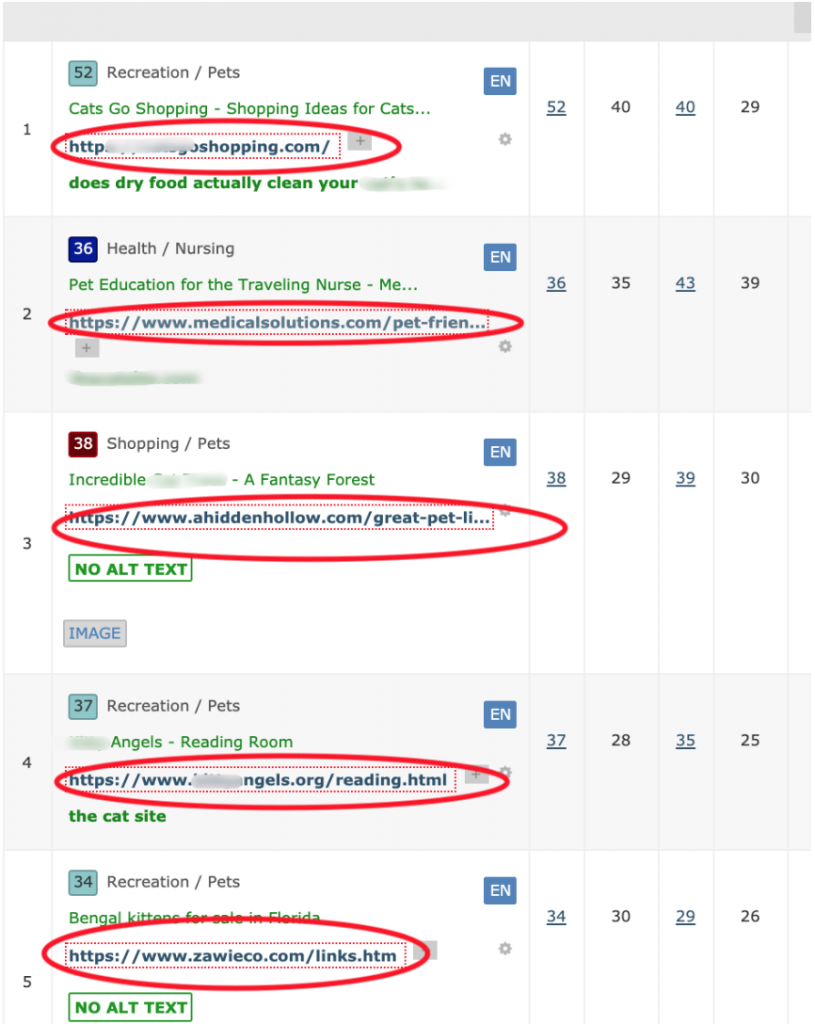 The quick check for foreign content is to make sure that there is no foreign text. If there is, open the link and see what type of site it leads too. If the site is relevant but just in a different language, this is okay, but if the site is irrelevant, then it means its spam. 
When we open up a lot of these backlinks, we can see that some links are directory style, some are blog comments, and some are in-content and they are all from niche relevant blogs that have to do with pets (the niche for the site). This is a good sign! 
When reviewing a backlink profile, it is important we don't get hung up on a couple of bad links and decide the site is no good. We want to take a balanced approach here and look at the backlink profile as a whole, using it as one factor that impacts the risk of the site.
SEMrush Verification
In SEMrush, we look at the traffic chart, the keywords it's ranking for in search engines, as well as the number of pages it has indexed and the traffic that is going to them.
The same things we check in Analytics we check in SEMrush, and the reason for this is that we validate the traffic numbers and get a better idea of the type of keywords the site is ranking for. 
First, you will want to take a look at the graph to see what kind of trend the site is showing here compared to the Google Analytics graph (analytics graph will be more accurate), but always good to have another piece of evidence to go off of.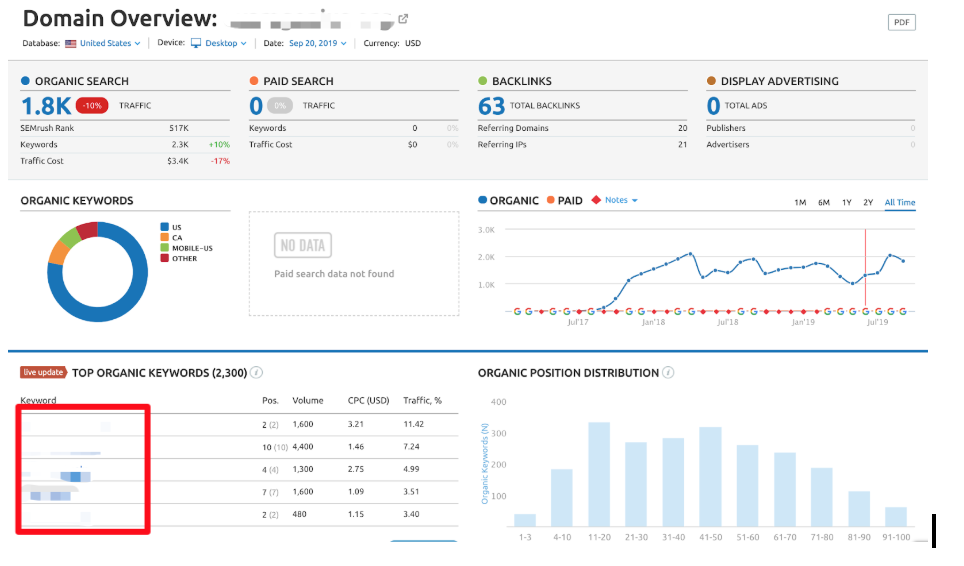 This graph shows an increase in traffic and then stability afterward with a slight decline. You would want to do a similar trend check to see how the traffic is moving. You shouldn't see much deviation from Google Analytics but if you do, you might want to dig into Analytics a bit more just to be on the safe side.
The second thing you want to check is the keywords it is ranking for in Google or other search engines. If it's an Amazon Associate site or some other affiliate website, is it ranking for some good buyer intent keywords in the top 10 and are there some keywords in the top 10-30 that have the potential to improve? Or if it is an AdSense site, we want to see it ranking for keywords that have a high CPC.
Another thing to check is the traffic percentage across different keywords. Is one keyword getting a majority of the traffic or is it split up amongst the keywords, especially if one of the keywords is something like "best lawn chairs 2018" when its 2019 and not ranking for the same keyword 2019, this means that this keyword will soon become irrelevant.
Another red flag that would impact the purchase price or maybe result in no deal is if they reported no paid traffic but either analytics or SEMrush showed some signs of paid traffic. 
As we can see from the image below, two of the more trafficked keywords have 2018 in them, and since we were in 2019, these keywords aren't really being searched anymore. Just planning to change the keywords to the current year is a good thing to do but there is no certainty that similar rankings will be achieved.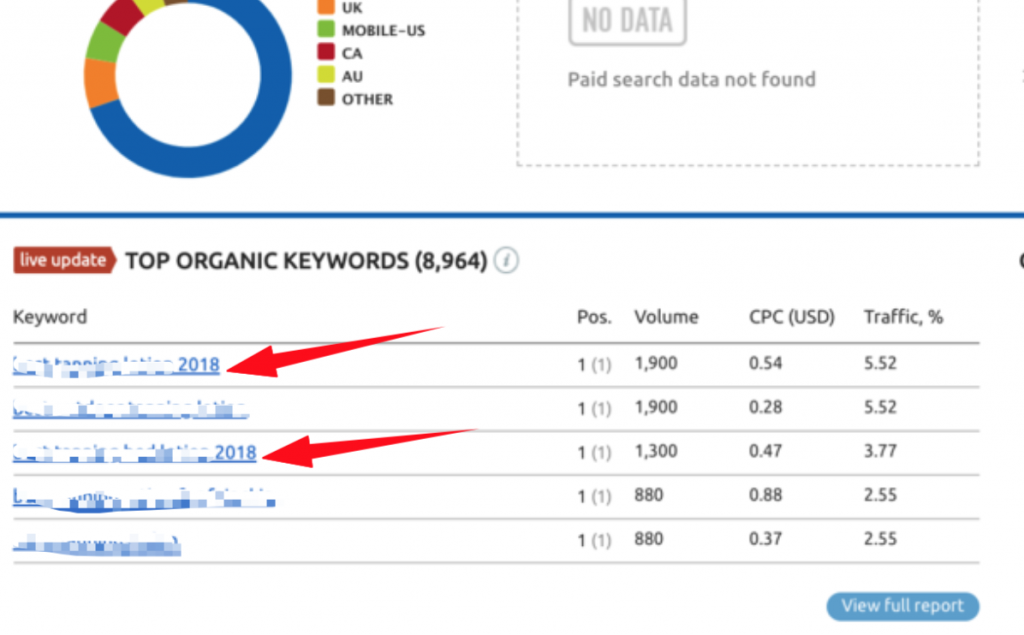 The next thing we look for is the pages and the amount of traffic going to the pages (again, this is similar to analytics but it's always better to check multiple places in order to verify everything thoroughly). This also gives you an opportunity to see what keywords the individual pages are ranking for and how many pages are on the site.
Good Example:
Traffic % is spread out amongst multiple pages.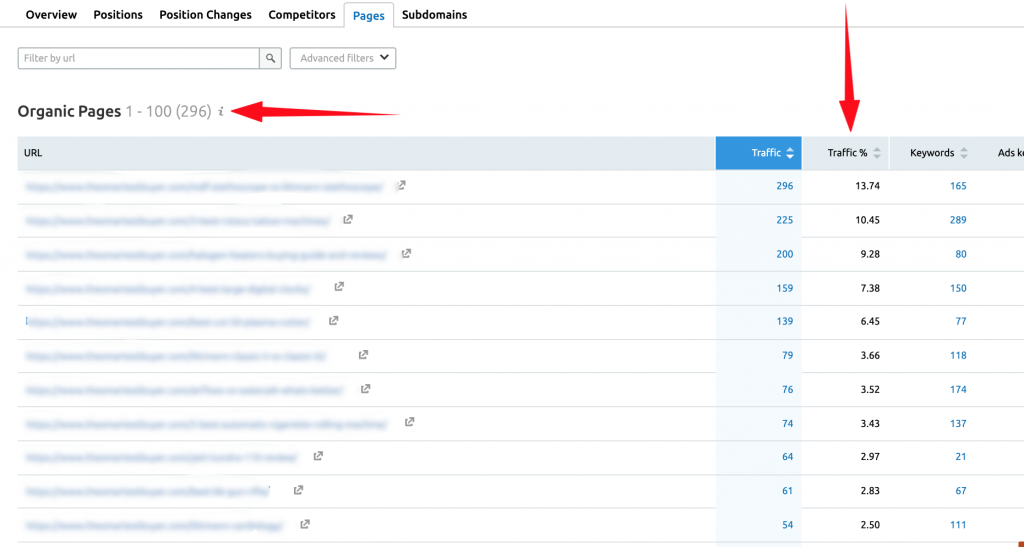 Bad Example:
Two things are wrong with this. One is the fact that there are only three pages total so the site is very thin. The second is that all the traffic is going to only one of these three pages.

Ahrefs Verification
When looking at websites for sale, we use Ahrefs to double-check the backlinks, keywords as well as the source to visualize the referring backlink timeline.
Example of a Good Site:
URL rating and Domain rating are very high. We like to see sites above 10 for both, but the higher the better. Also, as you can see for the referring domains chart, the backlinks are increasing at a normal rate.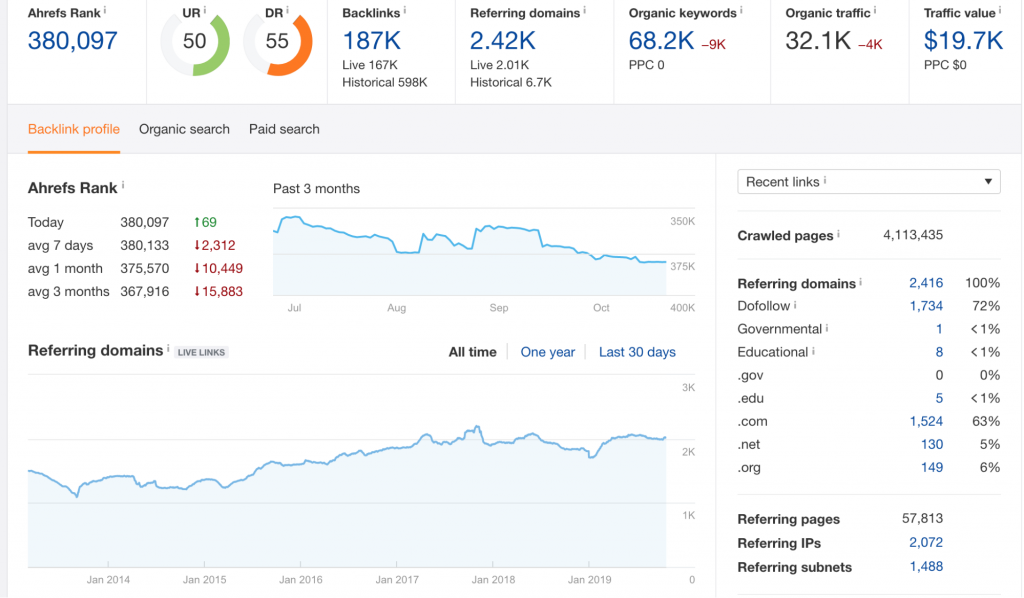 Next, we want to look at the backlinks to ensure there isn't anything spammy, this is the same process that we use with Majestic, but we are double-checking to make sure we didn't miss anything.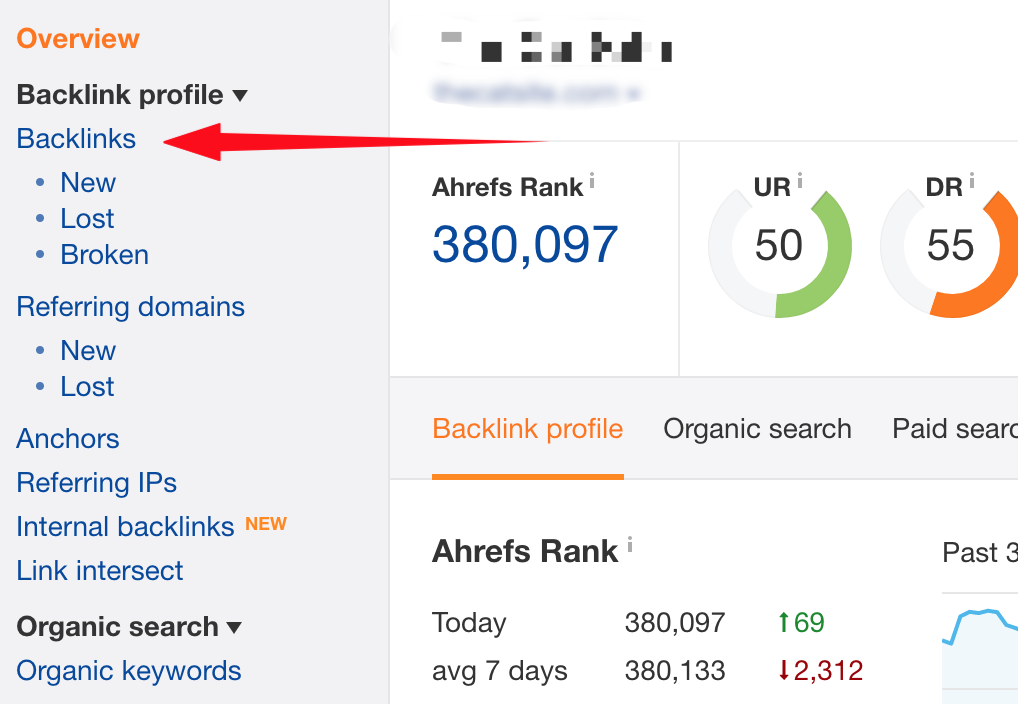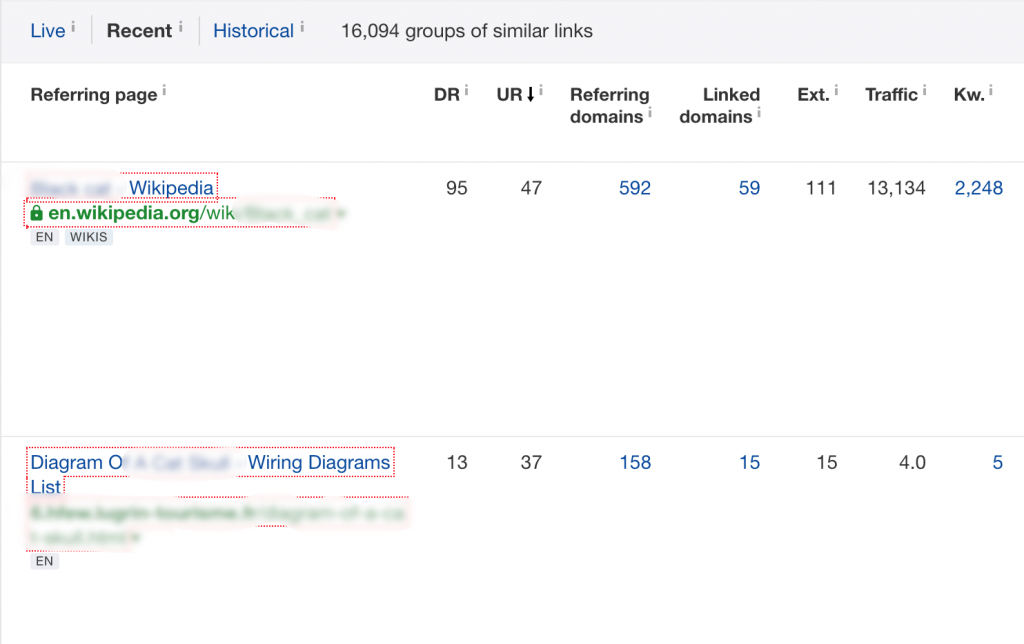 You will want to take a look at the sites linking to the website you are analyzing and then click on the links and ensure they are linking to real and relevant links. With this particular site, it had a lot of good links that were relevant and had a few blog comments and directory links — nothing foreign, spammy or PBNs.
Example of a Bad Domain
In the photo below, you can see that the URL rating (UR) and domain rating (DR) are very low. You can also see by looking at the referring domain chart that it is on a downward trend for losing backlinks which is not good; we want sites that have either a stable trend or an upward trend.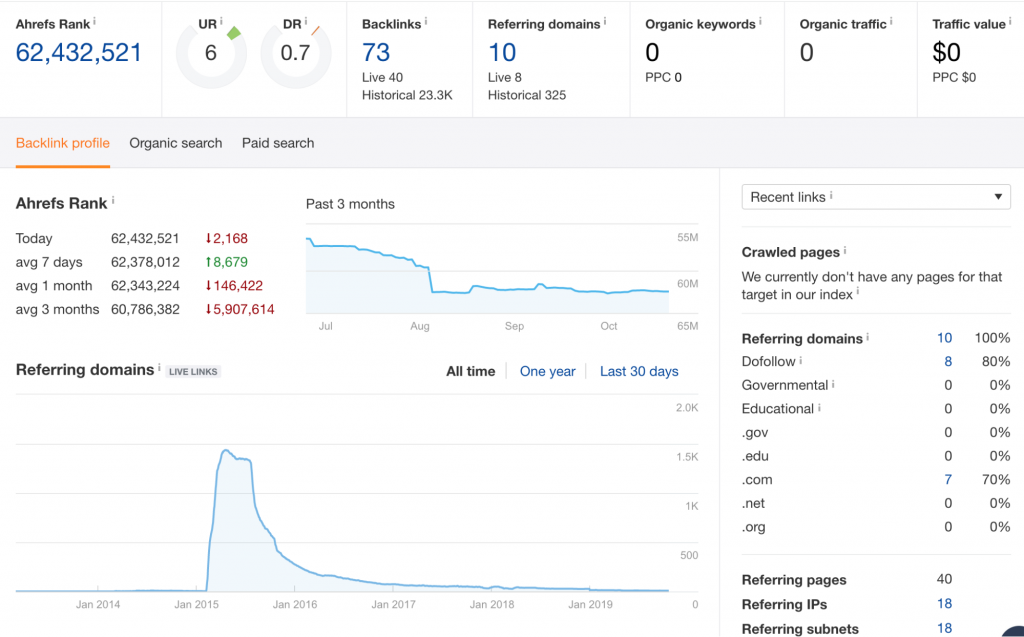 When we go to look at the backlinks, we are able to see that a lot of backlinks are foreign and have no relevance to the actual site.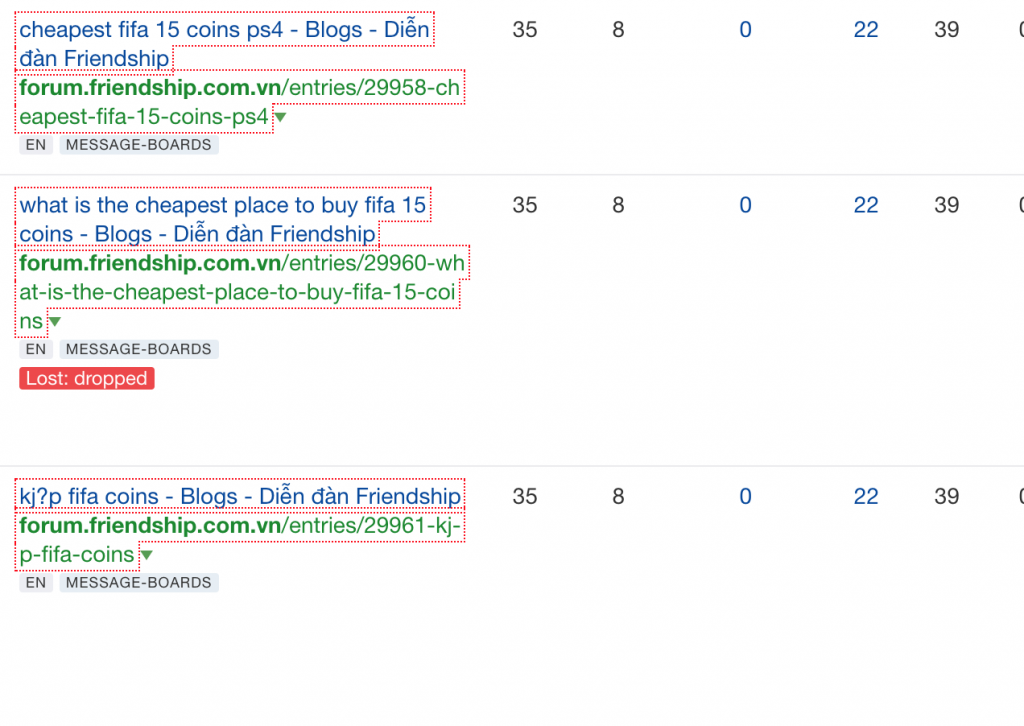 This is a clear sign of spam, and we would stay away from buying websites like this.
Archive &Who.IS Check – A Website Used Vehicle Report
This step is about using available information to confirm the story/history of the site/domain is consistent with what the seller is saying. 
After going through the steps above, we have a good understanding of what the site's link structure looks like, but what we don't know yet is the history of the domain.  Did it use to be home to a foreign site, did it use to be linked to anything spammy such as a pharmaceutical site or porn site? The way we check this is to look at the Archive of the site and check a few different dates in time that the site has been in existence for.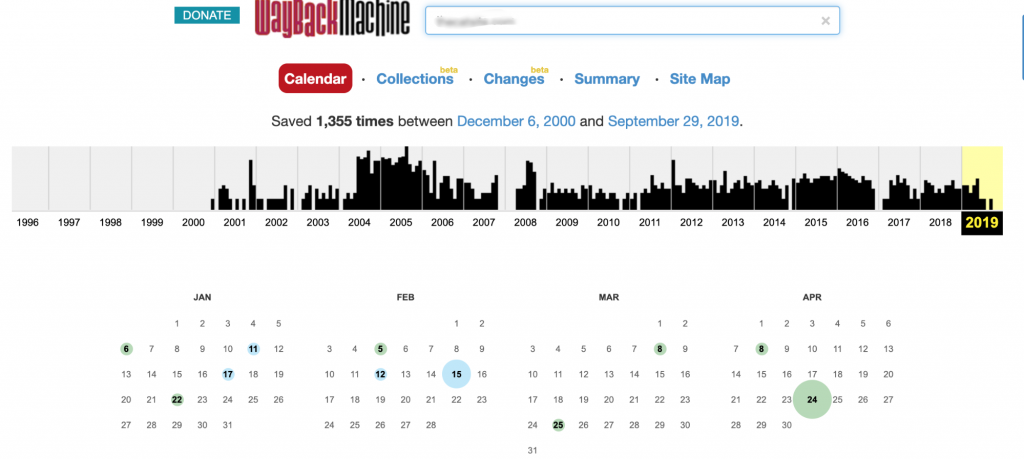 The image above shows that the domain has been around since 2001; you will want to check a date for each year and see what the site looked like that year. It's important to check each year so you understand the history and to make sure you don't miss any changes that don't line up with the seller's story. 
For example, if the seller says he is the only owner but we see in the archives that it was actually a physical store before and within the time he owned it, questions will be raised. Similarly, we want to see in who.is that the domain registrar history lines up with what the seller is saying. Is it a recently expired domain that the seller picked up and the traffic is based on links that weren't placed to the current content and therefore may be removed in the future? 
This is about knowing the history of the website similar to a used vehicle report!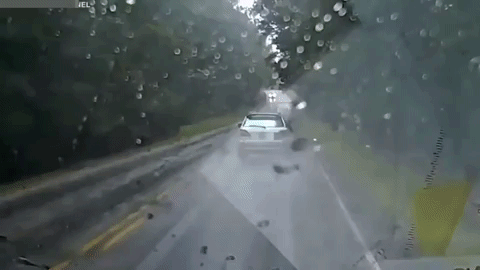 Content Quality and Plagiarism-Free
One of the last steps in our website due diligence is to make sure that the content on the site is quality and unique, with nothing that has been plagiarized from other sites. To do this check, we use Copyscape , and we take three to five articles(depending on the size of the site) from the site and paste the article into Copyscape to get a plagiarism score.
Since the article is already live on the internet, it will say you have a 100% match with an article, but that will probably be the site you are looking to purchase. We are making sure that each article has less than a 15% match with other websites on the internet.

As we can see from the image below, there are four sites that match some of the articles text.

You will want to click on compare text for each of the results to check the plagiarism score and to see which site it matches with. The example below shows a 100% match, but when I look at what the site is, it's the site I am looking at buying so that is okay.

After you check the rest of the results  and none have over 15% match, then it passes this check.
Example of Higher Plagiarism
The check below shows that there is a 20% match and that the match it is linked with is from another website. This means that ⅕ of the article is plagiarized. If the website for sale only has this article showing above 15% we may still consider it but if it has a few articles over 15% then we will tend to stay away from these sites (unless it is clear that it was the other site who plagiarized the one we are looking to buy – this can sometimes be verified in archive.org).

Content Quality
We want to get a sense of the content quality to understand if it is something that is going to need to be entirely updated or is it good enough to work with and improve upon. 
To do this, we do two steps….
Review the top 10 pages and get a feel for the quality of the content. If you were searching for the keywords the site is ranking for, would you be happy with the content? 
Leveraging a tool called MarketMuse, we run the most important pages through their content analyzer and compete tool that provides a measure of how well the article covers the topic people are searching for. A low score is not on its own a bad thing since it means it could be an opportunity for improvement! 

SEO Audit & Site Speed Check
An SEO best practice compliance audit can help reveal if there are any fatal flaws with the website that will impact the offer due to the costs to fix them. 
However, if there are any SEO issues identified when you do an audit report, these can be a great opportunity since you will be able to fix them and realize the upside. 
To do a site SEO Audit, my favorite free tool is Neal Patels here, or check out a complete list of 12 website checker tools.
Site Speed Check – I typically use these 2 products:
We are only looking to see if there are issues that will be expensive to fix. If there are easy to fix, significant website SEO, or pagespeed issues,  these are great opportunities for growth!
Phases of a Deal
Now we have covered… 
what makes website buying appealing
what your options are based on time and investment capital
Introduced you to the many different service providers in the industry
how to complete due diligence
Next, we are going to cover the phases of a deal and how the process typically works, as well as identify a few situations where the process is a little different and why that is. 
The process of buying a website typically looks like this…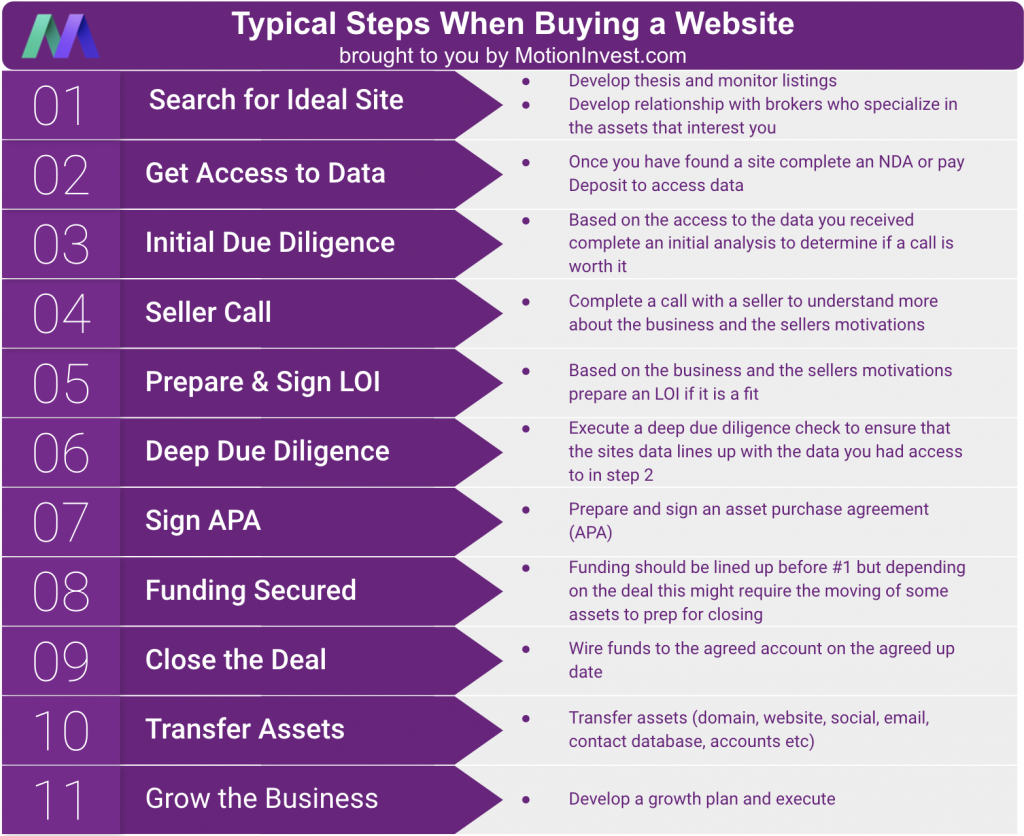 For reference here is the same process but for websites for sale on MotionInvest.com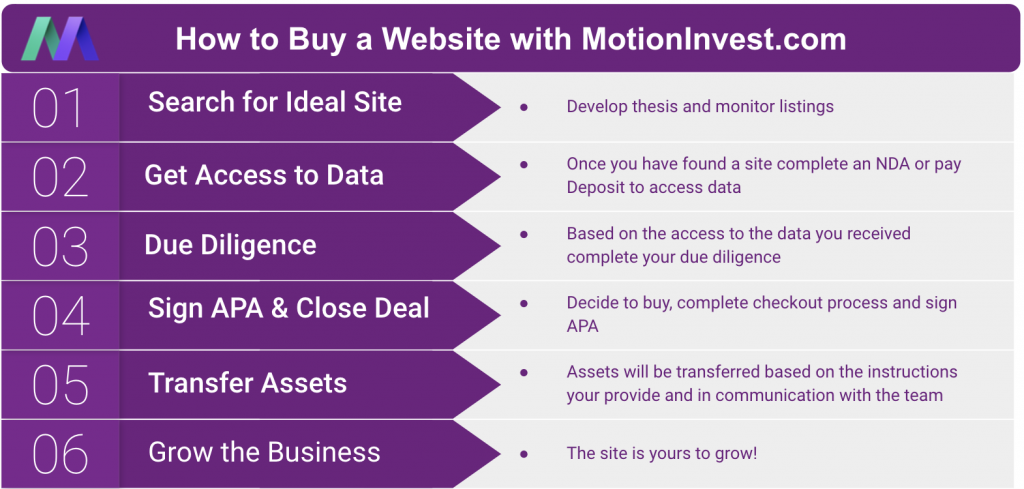 Below I will cover each of these steps in a little more detail along with a tip or two from my experiences.  
Search for a site to buy based on your criteria

Use the tool available at Centurica MarketWatch to monitor listings
Build relationships with the brokers that typically list sites you are interested in
Hire a VA to assist with monitoring the listings so you can act quickly if a site that meets what you are looking for comes up

Find a site that interests you and either complete an NDA or make a deposit if needed to get access to the data needed for due diligence
Complete preliminary due diligence
Get on a phone call with the seller (and broker if one is involved) to discuss the history of the business, how it operates, growth opportunities

Make sure you are friendly with whoever is setting up the call and the seller. The seller wants to see their site go to a good home and they don't want some a-hole running it, so make sure you aren't one! 
Understand what REALLY matters to the seller.Ask lots of open-ended questions and listen intently. The key is to find items they REALLY care about that aren't as big a deal for you. 

Decide if the deal is a fit and based on the intel gathered from the broker and the seller call, make an offer via a Letter of Intent (LOI)

See the section below on funding and typical deal structures

Complete due diligence

See the deep dive into the due diligence process here (LINK TO ANCHOR IN POST)

Agree to terms and sign an APA (asset purchase agreement)
Secure funding 

At this stage, the funding should already be secured but may need to be "collected" from different sources to be ready for an efficient closing. 
See the 16 sources of funding discussed below. 

Close the deal
Transition the business
Having everyone on the same page with how to transition the business is a big deal. I have found a Google Sheet that lays out the schedule for the transition of the business, and a complete list of all accounts to move is very helpful. Below is the schedule for a slightly more complex transition that involved combining a couple of businesses into a new entity. 

During this time, a lot of login information will be getting shared. To keep security high, make sure to use a password management tool like LastPass or 1Password.



Grow the site – Now the Work Begins 🙂

Situations where this is different:

Some marketplaces and brokers don't typically have an exclusive due diligence period. Typically for the less expensive and simpler to understand sites, the need for exclusive DD is not as great
Some marketplaces like Flippa don't have a structure for a seller phone calls 

Online Business Funding Options and Typical Deal Structures

In this section, I am going to go over sources of funding to purchase a website and what some typical deal structures look like. 

Since most readers are from the US, this is a very US-focused list. I am Canadian, so there are not as many creative tax solutions here. So, with that, the usual disclaimer to talk to your accountant/lawyer is important – especially when it is a Canadian listing the options.

These options are listed for interest purposes only, and I don't share any opinion on which option is best for your situation. Understand that website buying is not risk-free!   

16 Sources of Funding

Your personal capital

Your cash in non-registered savings/checking accounts

Self-Directed IRA or 401k

Moving money in your self-directed IRA or 401k to purchase a website

Borrow from a traditional lender

Leveraging personal assets as collateral or in some cases the collateral of the business you are acquiring you can secure a traditional loan

Friends and Family

Present the opportunity/risks of website buying to friends and family. 

Investors

Be sure to stay compliant with the Securities and Exchange Commission (SEC), but you can present the opportunity to investors via the prospectus and secure funds. 

SBA Loan

An option that has become more popular over the last several years. Hereis a great article on the topic produced by Quiet Light Brokerage.  

Credit Card

For smaller site purchases using credit cards could be used as part of the funding solution

New Tech-Enabled Business Lending
Peer to Peer Lending
Cryptocurrency

Use your cryptocurrency to acquire an income-generating website

Cryptocurrency Loan

Using a service like Celcius, you can borrow up to 50% against the value of your crypto for between 5 & 10% then purchase an income-producing website. If you don't mind the leverage, you can Hodl and buy a website.  

Seller Financing – Holdback

A holdback is used in cases where there is a "nuclear" risk and is attached to a specific milestone. Reasons for using a holdback could be a significant client's contract is up for renewal in two months.

An outstanding liability exists around chargebacks or a critical service provider's future is unclear. In each of these situations, you can select an amount that reflects the impact that risk has on the business's value.

For example, if the client up for renewal in two months represents 25% of the revenue, you could hold back 25% of the purchase price for three months to be released if, and only if, the client renews.

Seller Financing – Loan

Often a seller does not require 100% of the funding right away and may be willing to take a portion of the sale price as a loan payable to him/her to help get the sale done. This could look like 10% of the purchase price is turned into a loan payable over 2 years with a 10% interest rate.

To see what the repayment schedule would look like, here is an online calculator.  

Seller Financing – Earnout

An earn-out is when the buyer agrees to pay the seller based on the performance of the business moving forward. The earnout can get complicated since it can be attached to revenue or profit and then as a % of baseline.

For example, a simple earnout might say 25% of the purchase price will be paid as an earn-out over 24 every quarter as long as the business generates revenue greater than 75% of the trailing 12 months baseline at the time of purchase.

It can get much more complicated when bands get applied and to incentivize the seller if they are critical to its ongoing success/transition, they can receive compensation that exceeds the offer price.

An example of this would be if a site is sold on a 3x multiple and 25% of the total consideration is to be paid as an earnout the earnout could say "total consideration of 75% paid in cash at closing with 25% to be paid over 3 years with the seller receiving quarterly payouts of 25% of the quarterly profits.

In this example, if the business doubles in profitability day 1 and stays steady for 3 years, then the seller would receive a total of 75% + (25% doubled) = 125% after 3 years. For most acquisitions, I have done over $100k; they have had some earnout component. 

Seller Financing – Equity

Another way to deploy less cash and keep the seller engaged is to have them retain some equity. This can be a challenge, and a mistake I have made is having the seller who was "done with it" receive an equity stake that was too small compared to the cash payout they received, and they didn't stay engaged. 

Seller Financing – Consulting Post Sale

If the seller does a specific task that is important to the ongoing success of the business, you can agree to a scope of work and compensation as part of the total offering to buy the site.

One example of where I used this structure successfully was with a website that had someone who enjoyed talking about the topic but didn't want to run the business anymore. She didn't need a large cash payment but wanted to transition out and still receive nice monthly payments.

As a result, we structured a deal where she had a 2-year contract as a very well paid marketer to do what she wanted to be doing anyway (talking about the topic and spreading the word of the website) while receiving a significantly reduced initial payment. 

Typical Deal Structures

One thing to remember is that if you get too clever, and the structure is confusing, the seller will much rather go with a buyer who is going to make the process simple. 

When building a portfolio, having complex deal structures have a managerial cost. Tracking each unique deal structure is an administrative burden that distracts from the main objective which should be growth. 

If there truly is a significant risk, then getting creative with the offer is great or if the purchase price is high, it can be worth the burden but whenever possible, the best offer to buy a website is 100% cash at the lowest price the seller is willing to take. 

Under $100k Simple Websites (organic traffic with income from affiliate/ads)

Almost always 100% cash at the price you and the seller agree to

$100k-$1,000k Simple Websites (organic traffic with income from affiliate/ads) 

A structure might involve total consideration equal to 95% of asking with 75% of that price paid at closing and 25% attached to the ongoing performance of the business. Up to 25% to be paid proportional to the site's baseline traffic up to a maximum of the total consideration.

Over 1,000,000 or significant/complex risks

This is when things can get really interesting with multiple sources of seller financing combined in an attempt to mitigate risks and align incentives. 

Website Buying Questions 

Here are some of the questions people have asked us after reviewing this guide or looking to deploy their time/capital for the first time into this asset class.

Should I buy one website or a portfolio? 

I have seen people be incredibly successful with both approaches. It comes down to your personality. 

Are you passionate about a specific topic, and when you talk to friends about your online business, do you talk about the topic/content for your site? 

If yes, then you should have 1 website and focus on being an authority in that space! Hereis a great case study on what can happen when you focus!

Do you like building systems/processes, when you talk to friends about your online business are you talking about traffic, content, links, earnings, systems, etc.?

If yes, then likely, you will be more inclined to be a portfolio operator and will desire to have several sites you manage.  This is definitely where I find myself!

How much does it cost to buy a website?

Websites typically cost anywhere from 2x-4x the trailing 12 months earnings. Each asset class is different, and the factors that go into how much the website costs are significant.

Centurica has a great report that talks in detail about the cost of buying a website depending on various factors. Some of the factors that matter are…

Is it growing, stable, or declining?
Are the earnings and traffic lumpy, seasonal, declining, steady, growing?
Are the sources of traffic diversified and stable?
How old is the site?
Is the market growing or shrinking?
How is the quality of the content on the site? 
What is the quality of the backlink profile?
How hard will the business be to continue to run when the owner is gone? (does the content need a Ph.D. to keep updated?)
Are the methods the site is making money diversified and low risk?
Is the niche a risky one that could face regulatory trouble that could impact it?  

How much should you sell a website for?

From experience, as soon as you are no longer putting in the effort to a site, you should sell it! A site like all things is either growing or dying… before it starts dying to get it into the hands of someone that can focus on growing it.

The market value for purchasing a site depends on all the factors above and also how quickly/efficiently you are looking to sell. You can sell privately for less quickly with minimal effort compared to taking months and a significant effort to sell via a broker. 

How much money can you make buying websites?

The economics of purchasing an asset class when the multiple to buy is 3x is very attractive! A 33% compounding ROI if the site didn't grow is better than WarrenBuffet has done generating a 21% return over his 50 year investing career!

Obviously, the risk is not zero when purchasing websites and this is in part why the multiples are where they are for this asset class. 

Are there payment services to facilitate the purchase payment from the buyer to the seller?

Yes, services like escrow.com, escrow.trade have sprung up to help with the transfer of funds between the buyer and the seller for an online transaction. 

Conclusion

Congrats! If you got through all of this and digested it, well done! 

The entire team at MotionInvest and I have poured our brains and sweat into creating this massive resource. A big thanks to the other players/friends in the industry who helped with parts of this document. 

My hope is that if you are considering purchasing a website, this document has been a helpful guide in walking you through how the process works. 

It has been a fun journey building this document, and we look forward to improving it over the years. 

Whether you fall into the do it yourself camp or have more money than time, and you are looking for a fund/operator, we hope this guide has gotten you further down your journey. 

This asset class (websites making money with free traffic from Google) has changed many people's lives, including my families. With this guide, I hope we can help others on their journey toward building a business of their own to give them and their family financial freedom. 

If you have any comments or suggestions, please let us know!