How Much Is My Website Worth?
Do you have a content website bringing in a nice little revenue stream for you?
That's great!
But as nice as it is to get monthly income from your website, you should remember that the site you're building is an asset with real value. Someday, you may even choose to sell it and cash out!
Before you can profit from a successful website sale, though, it's important to understand how website valuation works. You need to know what will actually make your site attractive to a buyer, so you can command the highest possible sales price. If you are looking at places to sell your site, you can view our massive guide on buying websites for sale as it has a list of all the different brokers, independent buyers, etc. that you can look to buy or sell sites on.
In this post, we'll answer the question you should always be asking yourself as you grow your business: "How much is my website worth?"
How to Determine Your Website Value
If you want to know the overall value of your website, the first thing to do is break it down and look at the specific metrics that have the biggest impact on a site's valuation. Now many places but different weight on different factors effecting a site.
You'll want to see them trending in a positive direction – and if they aren't, you'll want to fix any issues that could hurt your site's value.
With that said, here are the biggest factors that will influence the value of your affiliate website.
1) Traffic
No surprise here, right? Traffic is the foundation of any successful website. That's why it's a no-brainer to focus on growing your total traffic!
If you've built up a strong web presence with ever-increasing organic traffic, your website will be more valuable. Of course, all websites suffer fluctuations from the occasional Google algorithm change, such as the recent May 2020 update. Do you know how your site's traffic has been affected by this and other updates? If you're not tracking, you're missing out on an opportunity to make your website more successful – and more attractive to buyers as well.
To stay on top of traffic, you should regularly analyze your site's traffic numbers and patterns. Check metrics like pageviews, users, and sessions to see trends. This practice also helps you discover which content is getting you the most views and links.

It's possible to do all of this right from within Google Analytics under the Audience Overview tab. Ultimately, strong traffic that can withstand Google algorithm updates will net you a higher website worth.
2) Content
To understand why your website would be valuable to a possible buyer, put yourself in their shoes. What would they really look for?
Clearly, the quality of your content is a huge factor. When we talk about quality, we mean well-written, helpful, and 100% original articles that are enjoyable to read. What you don't want is non-native English content that's clunky to read and light on research. Expect a buyer to check for plagiarism with Copyscape to make sure what they're getting is original.
Now, it's always a plus for your website valuation if you have quality content that is already ranking well with some solid links to it – but even if it isn't there yet, a website with well-written original posts will demonstrate the website's potential.
Buyers want a deal, so they may prefer to buy a website with great content that they can optimize for future results down the road. It may seem cliche to still be saying that "content is king," but the best content definitely leads to valuable backlinks, a top spot in the SERPs, and better earnings!
3) Backlinks
Just as important as content is a website's backlink profile. Remember, what a buyer is looking for isn't just the website as it is right now – it's also about what it can be in the future!
A strong set of links and high DR referring domains will make it easier for the next owner to rank new content, target more competitive keywords, and grow the website much more quickly. That's why any discerning buyer is going to check on the quality of links to your site.
What you don't want are links from blog comments, foreign websites, link farms, spam, or websites that aren't relevant. Google is sophisticated, so it's going to be able to detect if your site is propped up with spammy or black hat backlinks.

In turn, a website buyer isn't going to want your site without a lot of quality relevant links. You can easily monitor your backlinks, referring domains, and referring pages in SEO tools like SEMrush or Ahrefs to see how your backlink profile is trending. If you need help analyzing your backlinks, we have created a guide on how you can do that using Ahrefs here.
4) Monetization
Your current monetization approach could be incredibly valuable to a future business owner.
In fact, something as simple as having Amazon Associates on your site is a draw, because anyone starting a brand new site has to make sales in the first 180 days or they're kicked out of the program. Plus, if you've successfully negotiated sponsorship or direct affiliate deals, you can make your humble niche site irresistible to others with exclusive monetization opportunities.
Just like your site's traffic can be impacted by the Google algorithm, your site's earnings can be affected by changes to Amazon's commission structure. Unfortunately, if your site has been primarily monetized through the Amazon Associates program, then you'll need to adjust the income earned on their old commission structures to reflect the new commissions.
Of course, independent of what Amazon is doing, are your earnings trending up or are they decreasing? With so many different avenues for making money on a site – such as display ads, sponsorships, and products – it's a good idea to focus some attention on monetization techniques.
The better your actual earnings, the more your site will be worth.
Use a Website Valuation Tool
We've taken a look at some of the most important factors for your site's valuation, but if you want to take it a step further, why not find out your site's worth right now?
At Motion Invest, we offer a handy website worth calculator that will take all of this information and provide you with a ballpark estimate of what your site could sell for. We even factor in all of the fees you can expect when you sell to different places, such as Flippa.
Just be sure you're honest when you answer the onscreen questions, because the results are only as accurate as the information you provide.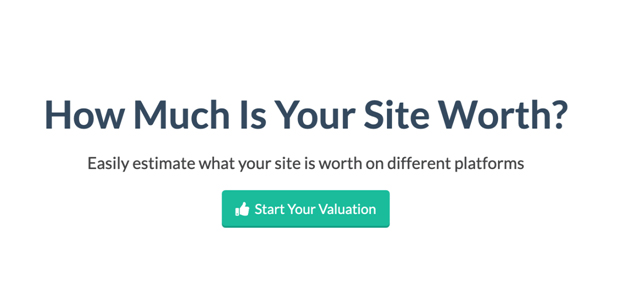 Of course, any number we share with you is no guarantee. There are a lot of factors that could affect your site's ultimate sale price, but even if you can't take the estimated value as gospel, it's really helpful to get a good picture.
And who knows? If the number is high enough, you might even be motivated to put your site up for sale now!
How Much Is My Website Worth Summary
There's obviously more to a website's valuation than we can cover here, but taking factors like traffic and content into account – and using a website valuation tool like Motion Invest's – will give you a good sense of how much your website is worth at any given time.
All of this is also a reminder of what you should be working on if you want to make your site more attractive for a sale, because these key metrics are the exact same ones a buyer will be interested in!
As fun as it is to work on improving your site's branding or interacting with readers on social media, it's your traffic, content, backlinks, and monetization that will move the needle and boost your site's value.
We encourage you to discover your site's value now with our free valuation tool. And if you're thinking about selling now, visit Motion Invest's seller page and see if we'd be a good fit for you!